50 Greatest Bargains in High-End Audio - Ultra High End - TAS But if you wanted to call the Sanders 10e the best speaker ever, you could definitely make a case. Within the category of speakers that emphasize facsimile reproduction of the direct arrival, the Sanders system can surely claim to be the equal of any and far superior to most. And when you consider that even if you buy two Sanders Magtech amplifiers—one comes along as part of the $17,000 package—the total cost exclusive of source components is $22,500, and that you can adjust the speaker to suit your room and your tastes, this system seems to me to be not only a wonder but also a bargain. TAS
System includes
1 x Pair of Model 10E speakers
1 x LMS loudspeaker Management System
1 x Magtech Stereo Power Amplifier 2x500wpc @ 8ohms
2nd Magtech can be added for full Bi-Amped Active Operation or 4 x Magtech Monos 1600wpc @ 8ohms
The Absolute Sound Best Speakers Under $20,000
Sanders 10E Speakers
The Sanders 10E loudspeaker was the best of the best at this show (of what I heard). Perhaps not everyone wants a speaker that emphasizes the direct arrival to this extent—the entire range above 175Hz is covered by a flat electrostatic panel, 15 inches wide, operated as a unit, hence quite beamy as frequency rises. But for the centered listener, something very close to sonic truth to the recordings emerged. And the new aluminum woofer, operated with a very steep DSP crossover at 175Hz produced bass that was awe-inspiring in power and extension, with precision to match the purity above (the bass is transmission-line-loaded). The whole had neutrality, low distortion, and sheer sonic power. Forget about the idea that electrostatics are subtly wimpy. Not so here, not at all. The Reference Recording version of Rutter's A Gaelic Blessing was as close as one is going to get to the direct experience of live, large-scaled concert music at an audio show—or anywhere else outside a concert hall—with remarkable beauty, clarity, and delicacy in the voices, combined with power in the organ part. Wonderful stuff. This is a groundbreaking product. And the price is reasonable. The whole system, including amplification for the bass, is $15,000.
The Sanders speakers exhibit all of the expected electrostatic virtues (transparency, neutrality, superb detail retrieval, and lightning-fast transient speeds), plus something more: namely, astonishing dynamic authority and clout, augmented by robust, rock-solid, deeply extended, and beautifully defined bass. Integration between the electrostatic panels and the transmission line bass system was simply superb. Chris Martens HIFI + The Absolute Sound June 2015
These are the Sanders Sound System Model 10E electrostatic speakers. They are built in Colorado and retail for $17,000 / pair which includes a Sanders Magtech amplifier. The Sanders preamplifier is $4,500 and includes a line stage and phone preamp in one chassis.This was easily one of my favorite demos at the RMAF 2015 show. The stereo imaging and dynamics were extraordinary and easily beat out systems at the show costing significantly more money. I also loved the exceptional bass response HomeTheatreHifi
Lifetime Warranty Made in the USA
Power Handling

Unlimited for any amplifier intended for domestic use
Frequency Response
20 Hz. to 27 KHz. +/- 2 dB
Includes Digital Electronic Crossover which allows you to completely control all aspects of crossover / speaker parameters.
- Crossover Frequency
- Crossover Slope (up to 48dB per octave)
- Phasing - Equalization
- Filter Types (Butterworth, Bessel, Linkwitz-Riley)
- Various Gains
- Time Alignment
Crossover accepts both analog and digital inputs.
Crossover has front panel graphics display.
All functions are available from both the front panel or by attachment to a personal computer.
The model 10e Electrostatic speakers are designed for listeners who are not willing to compromise in any way.
They are therefore designed for bi-amping with a electronic digital crossover .
The passive crossover typically used in conventional speakers
have serious flaws and can not be used to obtain the best possible performance.
The model 10e speakers are supplied with a digital crossover
configured to operate at a crossover point of 172Hz with a ultra steep slope of 48dB per octave .
They require two stereo ampliers for bi-amping
The 10d not only has a sensitivity of 94 dB to allow concert hall volumes and can be used with amplfiication of several thousand watts
reproducing effortlessly the full dynamic range of any piece of music.
Deep and powerful bass are assured by the use of a transmission line
of 8.6feet in lenght in the base enclosure of each speaker . The custom woofer system has been designed to stop and start
more quickly than other woofers for optimum integration with the electrostatic
The use of a modern digital crossover allows you to fully control the speakers and change the crossover point at any desired frequency
the slopes of the crossover 6dB per octave to 48dB per octave , adjust filter types - butterworth , bassel or linquitz-riley
adjust equalisation of woofer and the electrostatic panel , the gains of the channels and EQ , phase , and also the time-alignment of the speakers
EQ can be adjusted to suit your room acoustics and your tastes better than other speakers
Frequency response of the 10d is truly full range ( 20 Hz to 27 khz ) +/- 2dB to fully reproduce every musical style
I will have to say I'm always impressed by the detail in this room and the simplicity of the system. Sanders makes one of the nicest sounding electrostat speakers I've heard, and for the price it's hard to beat. These are actively crossed over . Unbelievable, and Mr. Sanders stands behind his gear. PositiveFeedback
Sanders Sound Systems
Led by Roger Sanders, a man with more than 40 years of experience in electrostatic loudspeakers, Sanders Sound Systems produces hybrid electrostatic loudspeakers that combine electrostatic panels with integrated transmission line-type dynamic woofer systems, which typically would be powered either by Sanders' distinctive ESL or Magtech amplifiers.
Sanders' Newport Beach system consisted of a pair of Model 10D hybrid electrostats powered by dual Sanders Magtech Stereo power amplifiers, with crossover duties handled by a Behringer DCX24/96 digital electronic crossover.
The Sanders speakers exhibit all of the expected electrostatic virtues (transparency, neutrality, superb detail retrieval, and lightning-fast transient speeds), plus something more: namely, astonishing dynamic authority and clout, augmented by robust, rock-solid, deeply extended, and beautifully defined bass. Integration between the electrostatic panels and the transmission line bass system was simply superb.
Given the terrific performance in evidence here, it remains a mystery to me why this brand is not more widely known on the worldwide high-end audio stage. In my view, it is certainly deserving of wider recognition . At bottom, Sanders Sound offers us all the things we have always liked about electrostats, plus all the things we've always wished electrostats could provide (that is, authoritative dynamics and top-class bass performance), all at a very sensible price for the quality on offer. - Chris Martens HIFI + The Absolute Sound June 2015
10e system consists of
1 pair of 10e electrostatics speakers & digital crossover with full function control
Natural Cherry or Natural Walnut or Black
MORE ABOUT OUR NEW MODEL10e SPEAKER
what is new? 1) new bass driver 2) revised transmission line design
In our quest to produce even deeper, more dynamic, and more powerful bass, we now offer the Model 10d speaker system. This model uses a driver with an ultra powerful motor combined with a truly massive magnet structure and lightweight aluminum cone for incredible bass performance.
When this new driver is combined with a revised version of our transmission line technology, active digital crossovers, deep bass equalization, and the 900 watts of power available from our Magtech amplifier, the bass performance is truly State Of The Art.
10d 10 inch woofer
Extremely stiff and rigid aluminum cone gives tremendous bass precision. The cone and the long throw low loss rubber surround show no sign of the familiar cone edge resonance and distortion associated with soft cones.
Lead-out wires symmetrically stitched to the spider to avoid resonances. Total suspension designed to assure stability for extreme excursions.
2-layer, extremely long, high temperature voice coil wound on an fiberglass voice coil former gives a high power handling capacity.
Cu-cap around the pole pieces reduce non linear and modulation distortion and increase overload margin.
Extra large magnet system provides high efficiency and low Q.
Extremely stiff and stable injection molded metal basket keeps the critical components in perfect alignment. Large windows in the basket both above and below the spider reduce sound reflection, air flow noise and cavity resonance to a minimum.
Both the Model 10c and Model 10d perform like a full-range, crossoverless ESL -- but with the deep powerful bass and high output that is simply not available from non-hybrid, full-range ESLs. In short, you can have it all. You no longer have to compromise high output and deep bass for the purity of a full-range ESL.
The digital crossover is just that -- a crossover. There is no amplifier built into it. So a Magtech amplifier is Ideal as part of the speaker system to use on the woofers. The Magtech comes with either a black or silver face plate and matches the ESL amp so that you can have a matched pair if you wish.
The digital crossover is incredibly flexible and allows you to totally control all aspects of speaker performance. You can alter the crossover point (any frequency you wish), the crossover slopes (6 dB/octave to 48 dB/octave), the filter types (Butterworth, Bessel, or Linkwitz-Riley), the equalization of both the woofer and the ESL, the gains of all channels and of the equalization, the phasing, time delay, and even the time-alignment of the drivers. You can match the acoustics of your room and your personal taste better than with any other crossover. In short, you can get the speakers to sound any way you wish.
The digital crossover is really a small computer. It has a graphic screen on its faceplate that you can use to make adjustments and you can even plug it into a personal computer and make all adjustments from your computer.
Of course, the digital crossover comes from the factory completely programmed so that you can simply plug it in and the system will be operational. You do not have to make any adjustments. But it is nice to know that you can if you wish.
The digital crossover can be operated both balanced and unbalanced. It has both analog and digital inputs and outputs. So you can feed it a digital signal directly (such as from the digital output of a CD player) if you prefer doing so rather than feeding it an analog signal.
The digital crossover has superb specifications, with distortion less than 0.004%, S/N greater than 96 dB, and utterly flat frequency response. It operates at 24/96 (24 bit, 96 KHz sampling). So do not think that it degrades the sound because it is digital. It sounds perfectly transparent.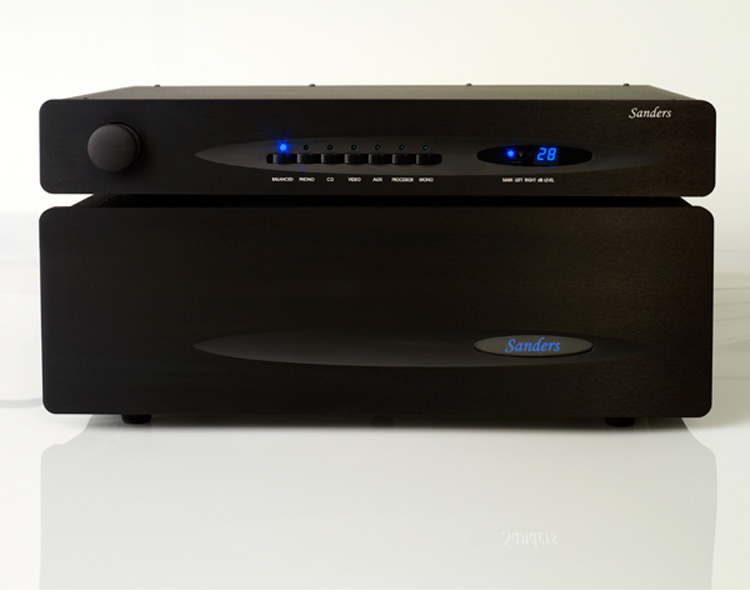 2014 NEWPORT BEACH SHOW REPORT: SPEAKERS UNDER $15K The Absolute Sound June 2014
Sanders Model 10D electrostatic
This hybrid electrostatic speaker is essentially the same as the previous 10 series models, but with a new woofer. The change of woofer, along with the bi-amping using a digital crossover powered by Sanders Magtech amplification, eliminated a certain thinness in previous versions of the Sanders 10 to provide a remarkable level of neutrality. Perhaps not everyone wants the extremely direct sound generated by the fairly wide and hence inevitably beamy single electrostatic panel. But if you do like this kind of directness, one gets the impression here of hearing very much what is actually on the recording. And the listening room around one all but vanishes. It is quite an effect—you have to hear it to believe it. In its distinctive way, this was one of the very best sounds at the show
Speaker Net Weight (assembled)
Model 10d 90 pounds (40.8kg)
Speaker Dimensions
15" W x 18"D x 69" H (38cm x 45cm x 175 cm)
Shipping Weight 5 boxes
Model 10d
Total shipping weight 270 lbs (122.5 kg)
Full Sanders Sound system with Esl or Magtech 900wpc stereo or 2000wpc monoblocks & sanders full function pre amplifier & ESL Speaker Cables

just add your Analogue Or Digital Source for State Of The Art Sound