Dimensions to Suit a Wide Range Of Open Turntables Supplied Without Dust Covers
Eg - SME , Clearaudio , Project etc
External - 490 x 370 x 210 mm
Internal - 482 x 362 x 206 mm
Thickness - 4mm
This beautiful High Quality German Acrylic cover will protect your cherished turntable from dirt and dust., Children & Animals & Protect your Investment
No more broken Cantilevers or Damaged Stylus from prying hands or paws !
These covers have been very carefully designed and are strong and very well made. made of a sturdy Plexiglas that protects your turntable from dust and damage and at the same time will add to the visual pleasure of enjoying the beautiful design of your record player.
On the left and right hand side you will find a recess in order to be able to lift the cover off easily when you are playing your records. The dust covers have a large recess at the rear side in order to accommodate the passing through of various Tonearm cables.
Basic material we use PMMA Acrylic sheets from high quality suppliers. The sheets are cut to size and all edges are machined to 45 degrees.
Then the panels are glued together. So our covers are not folded but glued to sharp 90 degree edges. The thickness of all panels is 4mm.
Machined to precision
acrylic material by CNC cutting and then folding it to the desired shape by use of a rig and heat.
On the left and right side you'll find a cut-out grip for easy handling.
At the back we made a Large centered 32x5 cm cut-out for power and signal cables.
All edges as well as the side-grips and cable cut-out at the back are polished for a smooth look and feel. All together our covers are German Quality made.... and still affordable.
Wall thickness is 4mm so total inside dimensions (compared to the outside dimensions) are 8mm less for width and depth and 4mm less for height.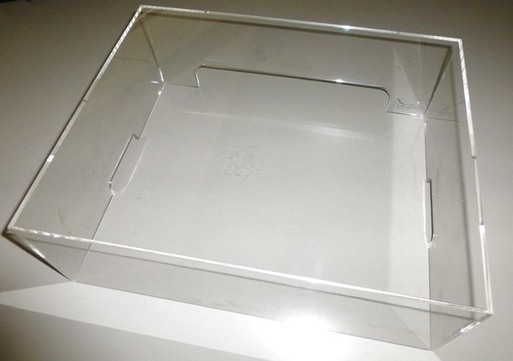 Dust can have a substantial impact to vinyl records and turntables, both in terms of the sound quality you experience, and with respect to the longevity of your records and phono cartridge or stylus. Dust and dirt from the air settles on a turntable and records and can clog up the grooves, and accumulate on the needle, seriously hampering the sound of your music. Using a turntable cover prevents large levels of dust and environmental particles settling on your equipment, and can also protect your record player against knocks, bumps and spillages!
Please Note These are NOT Cheap dust covers -
Near museum quality heavy duty custom fit dust cover
High Quality European Glued & folded in a Rig with Heat and CNC cutting & machined for Maximum Visual Design
.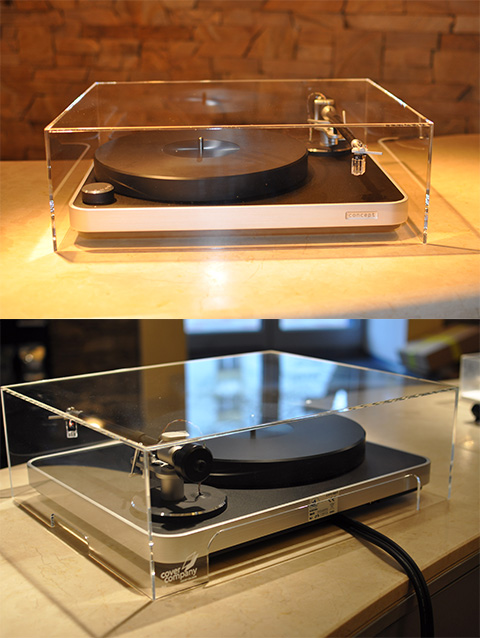 #### Turntable Not Included ###