There have been times when I've been testing the Elipson where I've mentally put a black mark against it as neither being as integrated as some other devices we've seen recently nor as capable in absolute musical terms. The thing I've then had to do is remind myself is that it is much more affordable than any of them. Even the very keenly priced Quad Artera Solus is another £600 and when you put this in context, you begin to realise that Elipson has played a bit of a blinder. By borrowing from the Google parts cupboardsystem a feature set that is entirely competitive and done so at a hugely competitive price point.it is still able to deliver on the promise of an all-in-one in a wholly satisfying manner that is entirely worthy of recommendation. Avforms
Bang & Olufsen ICE power
Featuring a Bang & Olufsen amplifier, the Music Centre BT puts music playback quality at the top of its list of priorities. Despite its sleek and slim casing, this highly efficient amplifier produces an effortless 60 watts per channel - enough to easily fill most rooms with a deep, rich sound.
Boost your bass with an optional subwoofer
By fitting a subwoofer output, Elipson gives you a wider choice of speaker options. Instead of medium-sized or floorstanding speakers you can use an active subwoofer with small satellite speakers - such as the matching Elipson Planet series.
One box does it all
Stream from your mobile via Bluetooth, listen to CDs, the radio or connect up to five additional sources via a wide variety of sockets, including USB, optical, RCA phono or 3.5mm. When it comes to music, the Music Centre BT does it all.
Bluetooth streaming
Getting your favourite music from your smartphone or tablet to speaker is easy when you Bluetooth it. Simply pair the device with the Music Centre BT and you're good to go - high quality, cable-free music with near unlimited access available from your smartphone's music apps. For the highest quality sound, the Elipson is compatible with the aptX format.
Or choose to stream with Chromecast Audio
This special pack offers a Google Chromecast Audio for effortless and high quality music streaming. Simply connect the Chromecast to the system and stream music, music services and podcasts from your smartphone, tablet or PC with Chrome browser. Compatible with Apple iOS, Android, Windows and OS X, the Chromecast offers top quality music streaming via wi-fi.
DAB/FM radio
With a choice of DAB and FM, the Music Centre BT is well-equipped for tuning into a wide range of radio stations. DAB (Digital Audio Broadcasting) gives access to the widest range of stations in the UK, in crisp and clear digital sound quality. In case your favourite stations aren't available in DAB, this system is also equipped with an FM tuner. Boasting RDS for station naming, this is almost as easy to use as DAB and still provides great sound quality. 25 radio presets are included for fast access to your favourite stations.
CD player
Featuring a slot-loading CD player, the Music Centre BT is also compatible with your existing CD library. Suitable for playing back a wide range of file types, including MP3 and WMA encoded discs, the Elipson is an extremely flexible player.
USB and optical digital inputs
If you store music files on a memory stick device then the USB connection is the ideal way to access them. The other digital input is an optical one. Ideal for plugging in many digital sources, including a DVD player or TV, this is a great way of improving your TV's sound.
Analogue inputs
Two sets of RCA AUX inputs let you hook up analogue sources. These are perfect for older equipment, especially turntables (equipped with a built-in phono stage only). Finally, a 3.5mm input gives a quick and easy connection to any portable device.
Connect it all and listen in style, with the flexible Elipson Music Centre BT Chromecast.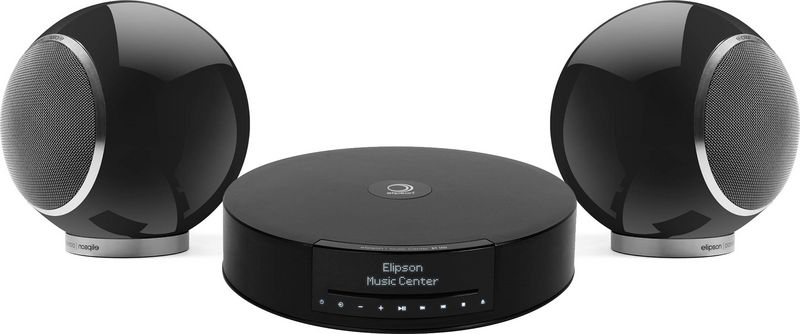 Matching Speakers Shown are NOT included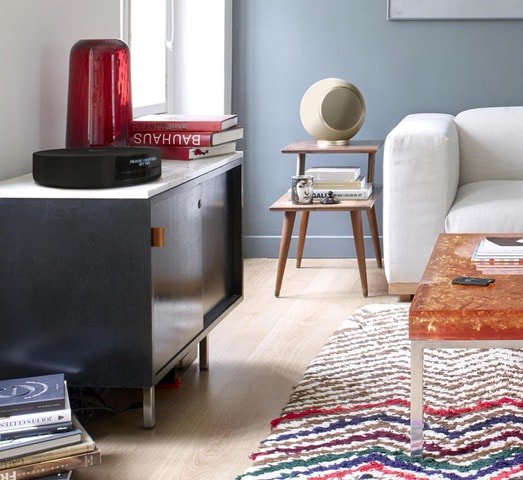 ..