Complete Record Cleaning Package - A Clean Record Is A Happy Record
200 x LP Anti-Static HDPE Poly Lined Inner Sleeves
100 x LP Poly Outer Sleeves
1 x Goat Hair Record Brush
1x Label Protector / Record Clamp
1 x Wash IT Record Cleaning Fluid ( Cleans 150 Records )
A CLEAN RECORD IS A HAPPY RECORD
Now the world leader in Turntables Pro-Ject presents a RCM record-washing machine, the Pro-Ject vinyl Cleaner VC-S
The VC-S MK II has been designed to build on the international success of Pro-Ject's first Record Cleaning Machine (RCM), the VC-S. Though it still retains aspects of the original design, improvements around the arm, motor, clamp and chassis in the MK II further enhance both the unit's performance and the ease of use.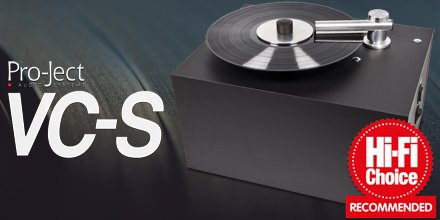 I am pleased to discover that the background noise has now completely disappeared. It is extremely quick and easy to clean an LP using the VC-S and I am able to rattle through a dozen or so of my records in next to no time with excellent results."
Of all the RCMs I have tried, Pro-Ject's VC-S is certainly one of the best and what's more it is also excellent value
5 Stars Hifi Choices
Build Quality: Not classy, but functional, very solid and well put together.
Sound Quality: When thoroughly cleaned the records tested were all like new bar any scratches or faults in the original recording.
Value for Money: £349 is a very small price to pay for such a superb easy to use cleaner. Compared to the competition it's a no brainer.
• Complete ready to start package for wet vinyl cleaning
• Superfast & superstrong cleaning
• 2 Years Warranty
. Exhaustion of cleaning liquid from record
• Completely dry record in 1 or 2 complete rotations
• Cleaning fluid includes anti-static remedy
• Label protection is done by waterproof clamp
• Accessory package includes brush, vinyl cleaning fluid, ...
• Optional lid (holes for hinges are pre-drilled)
Supplied with
Wash it vinyl cleaning concentrate (100ml bottle) will clean 150 Records
Goat hair brush
Adhesive strips for vacuum arm (replacement)
Spout (drain insert)
Mains connection cable
Now at last the time has come, the long-awaited by many vinyl lovers records washer made by Pro-Ject
Extremely capable wet cleaning machine that removes dirt and dust from your valuable records

VC-S is a radical new development. There are features which are new for record cleaning machines in this price range:

• It is super powerful and cleans a record in 1 max 2 rotations (best is 1 turn forward, 1 turn backward)
• It turns the record superfast within 2 seconds per rotation, which is about 3 times faster than usual cleaning machines do. The result is a much faster cleaning of records as well as much cleaner and 100% dry records with NO residual humidity!
• A new type of clamp seales the record label from cleaning fluid and avoids damage on the label!!
• Robust metal arm, which is easy to use, mechanically stable fixing! (no springs)
• Big container (2,5 l) for used fluid, that shows fill-up capacity and guarantees no spillage of used cleaning fluid. Discharging of used fluid is extremely easy to do.
• Newly developed vinyl cleaning concentrate Wash it & Wash it 78, which offers very good cleaning results and reduces static charge, so record wear as well as stylus wear is signaficantly reduced.
The Pro-Ject vinyl Cleaner VC-S presents itself as actually quite a simple décor solution, and thus also corresponds entirely to the manufacturer's corporate philosophy. The aim is to offer an easy and simple for beginners to use solution that still offers optimum performance.
Thus, the Pro-Ject vinyl Cleaner VC-S presents with dimensions of 435 x 335 x 280 mm, is compact, the housing is kept in discreet black. It is striking that the Pro-Ject vinyl Cleaner VC-S is based on a solid running plates made of metal, but not equal to the entire circumference of the record. The record will be fixed using a special clamp, which shall ensure that the label is well protected to clean vinyl. Even the arm for the extraction is carried out extremely robust and made of metal. A very stable, easy to handle mechanism without springs allows easy mounting and lifting the arm, which can be turned to the side to put the plate on the plate.
In the arm cleaning lips are used on the underside of corresponding recesses, which eliminate any residual liquid during the suction. These are always in the form of Pro-Ject VC-S Self-adhesive strips as an accessory.
The Pro-Ject vinyl Cleaner VC-S is equipped with a particularly generously sized tank that holds at least 2.5 liters. However, this is not for the fresh cleaning liquid, but also to receive the used cleaning liquid. Via a viewing window on the side of the Machine , how much liquid is already in this tank, which also can be easily emptied, namely by tilting simply according to the side the Pro-Ject vinyl Cleaner VC-S. This is facilitated by the so-called Pro-Ject VC-S Spout again, a kind of "bill-outlet", which is placed in the tank opening.
The cleaning is carried out at the Pro-Ject vinyl Cleaner VC-S first manually, in other words, the cleaning liquid is applied by hand, and uniformly applied with a brush, such as the Pro-Ject VC-S Brush, while the Pro-Ject vinyl Cleaner VC-S rotates the record to be cleaned. Thereafter, the cleaning liquid can be removed via Vacuum , for which the suction arm placed, and the suction through the respective switch is activated.
Pro-Ject emphasizes expressly that the Pro-Ject vinyl Cleaner VC-S is designed to be particularly powerful and also rotates when compared to similar products very quickly. Only two seconds would require a full revolution and by the powerful suction would an already, two revolutions sufficient to completely remove all residual liquid. The manufacturer recommends that a rotation in a clockwise direction, a further counter-clockwise direction, and even the plate was perfectly clean, and so dry that it can be played immediately.
Vinylgermany Review - The VC-S is a well thought through product to clean your beloved vinyl. Especially the fast cleaning process gives this vinyl cleaner an advantage over its competitors. I daresay this new vinylcleaner from Pro-Ject has a very good initial situation to be a hit in the market. It shows well thought out details, cleans incredibly fast and therefore is also a great alternative for the professionals. The biggest surprise is the suggested retail price, with that the vinyl cleaner VC-S has very good chances to become a permanent component in many households of vinyl fans. If you clean your LP according to the instructions, you may be shocked, that your record indeed is dry after one, maximum two rotations! Fingerprints on an older record have been gone using the included cleaning fluid, even purposely added grease stains and dust on openly left LPs has been completely removed after a standard procedure.
SempreAudio Review - The Pro-Ject vinyl cleaner VC-S presents a very solid, highly powerful and therefore an incredibly effective record cleaner, which delivers very fast and perfect results, at the same time flexibility in investion, a perfect solution for a "clean groove" and lastly a perfect music playback from your record. To make it short, the Pro-Ject vinyl cleaner VC-S was not just brave, but nearly heroic. Once again it was confirmed to us, that it needs a highly effective vacuuming process to get a completely clean groove for an impeccable music playback. And that's exactly what the Pro-Ject record cleaner VC-S makes it stand out
.
Power connection 110/120 or 230/240 Volt - 50 or 60 Hz
Power consumption 800 watts max
Dimensions (WxHxD) 435 x 335 x 280mm
Weight 10,5 kg net

Optional accessories:
VC-S Dust cover (including hinges)
VC-S Brush (Goat hair)
VC-S Clamp (Label protection)
VC-S Vacuum Arm
VC-S Self-Adhesive strips (vacuum arm)
Wash It 100 (cleans 150 vinyl records)
Wash It 250 (cleans 375 vinyl records)
Wash It 500 (cleans 750 vinyl records)
Wash It 1000 (cleans 1500 vinyl records)
Wash It 78 250 (cleans 375 shellacs)
Wash It 78 1000 (cleans 1500 shellacs)
RECORD CLEANING
EVERY RECORD IN YOUR COLLECTION SHOULD BE CLEANED BEFORE YOU PLAY IT AGAIN, AND EVERY RECORD ADDED TO YOUR COLLECTION SHOULD BE CLEANED BEFORE PLAYING.
Every record, even if thought to be cleaned, is soiled with a wide range of dirts and contaminants, including mold and mildew. Vinyl discs are also coated with sticky compounds.removing pressing debris and 'mold release compound' from sealed LP Contaminants between the groove and diamond styluse cause mistracking and are abrasive resulting in unnecessary, excessive wearing of both record and stylus. By interfering with proper groove tracing, dirty records produce inaccurate, noisy sound.
Resulting in reduced sound quality
Reduction in Stylus Life span
Increaesd Record wear
Increasing Static , pops & Clicks
Clean all your records
1/ Manually with a commercial record cleaning fluid & Wet Record Brush
2/ Record Cleaning Machine RCM - Vacuum or Ultrasonic
this is NOT a expense but a Investment for your music collection
A CLEAN RECORD IS A HAPPY RECORD
What Protective Sleeve for your records?
To meet the requirements of our customers, we have Four different kinds of Outer Sleeves in our catalog
Polyethylene , Polypropylene , PVC & Mylar . To facilitate your choice, we created this page to explain the characteristics of these Four materials:
Polyethylene: Flexibility
Polyethylene (PE) is Inexpensive flexible, soft & antistatic with a standard transparency. Suitable for Archival Storage.
Polypropylene: Transparency
Polypropylene (PP) Anti-Static & are ideal to highlight your records, thanks to their very high transparency and Glass like brilliance. The polypropylene Outer is very smooth and soft but also not as soft as the poly Outers This is because polypropylene is a harder material than polyethylene. Polylypropylene Provides cost-effective Long-Term Archival safe protection for all of you records - Acid Free , Crystal Clear Glass Like Material & 100% Transparent . Polypropylene has the strength and durability of Mylar, at a fraction of the cost
PVC: Rigidity
PVC Sleeves are both rigid and transparent (not as transparent as polypropylene). . Known for their durability and resistance.
but can discolour or cloud or crack with age or under UV light
PVC is NOT Suitable for safe Long-Term Archival safe protection for all of you records
PVC contains softners , plasticizers or stearates. PVC does migrate and can harm your Media .
MYLAR:
Record sleeves are made of museum grade Archival Polyester (Mylar), an inert material of the highest clarity. Polyester will not discolor, damage or adhere to items placed inside it. It is a sturdy film that will give extra support to fragile documents.. Polyester is used worldwide in museums, libraries and archives. Polyester material is approved by the Library of Congress for archival storage. This material has passed the Photo Activity Test. PAT
Polypropylene has the strength and durability of Mylar, at a fraction of the cost
INNER SLEEVES
Long-Term Archival safe protection for all of you records - Acid Free , HDPE ( Rice Paper ) Lined , Anti-Static Inner Sleeves
It is nevertheless a safe bet that 99%+ % of Audiophiles & Record Collectors would agree that LPs shouldn't be stored in plain paper sleeves.
Cheap, non-acid-free paper sleeves degrade with time. Paper is derived from the cell wall of plants; lignin, one of the chemicals contained in the cell walls, is unstable and light sensitive and decomposes into acidic products. While bleaching removes the lignin, the paper making process produces other detrimental byproducts such as hydrochloric acid or sulfuric acid.
Producing true, acid-free paper (pH >6) requires buffering with neutralizing chemicals.
Paper sleeves are also hygroscopic (water absorbing) and as a consequence facilitate the growth of mold or fungus on the LP.
The rationale for storing and preserving vinyl records in high quality, chemically inert, inner sleeves includes:
Neutralizing the record's static charge and preventing static buildup when pulling the LP out of the record sleeve
Preventing the record jacket or dirt from scratching the record
Long-Term Archival safe protection for all of you records - Acid Free , Lined , Anti-Static Inner Sleeves
Polyethylene film lining. The film has antistatic properties and contains no additives such as Softeners or similar products that could react with the vinyl of the records. Lined sleeves are much smoother on the inside than unlined paper sleeves, a difference you are sure to notice immediately when removing and inserting your records.
"HDPE sleeves have major advantages over paper inners. Paper ones have one smooth side but one rough side, so that they can be printed on, and this means that they are more prone to marking the vinyl. Furthermore, a lot of collectors are unaware of the fact that a HDPE bag should have paper that looks old, not bright white. Pristine paper is more expensive and naturally yellower, ash-free and unrecycled, while bright white has optical enhancers, costs a third less, but is lower quality and, with continuous usage, will shed particles and leave paper dust on the vinyl.

As for the poly inner itself, you need to ensure that it's not PVC – you can tell by its smell, which is produced by artificial softeners. Polyethylene has no softeners, which can leach into paper or onto the vinyl, and though low-grade polyethylene can produce a white dust, HDPE sleeves will not,and they have the bonus of an anti-static additive that prevents vinyl from sticking to them. Static electricity attracts dust and you need to minimise its presence. Also, HDPE has a melting point of around 130C, so it's stable in most heating conditions and it copes with humidity very well.