AAA 100% Analogue This LP was Remastered using Pure Analogue Components Only from the Master Tapes through to the Cutting Head
Analogue Productions - AAPC 6065 - 180 Gram Virgin Vinyl
Mastered By Bernie Grundman - RCA LDS-6065 - Book
AAA 100% Analogue - Limited Edition - Pressed at QRP Quality Record Pressings
The Absolute Sound Super Disc List TAS Harry Pearson Super LP List
As for the original it has its own spectacular qualities, especially in terms of the air, space and nuances only "fresh" tape can produce but the vinyl was far noisier as was the mastering chain. If this is one of your "go to" sonic spectaculars and you have other versions, you ought to consider adding this one. Both the sound, including dead quiet vinyl, as well as the packaging are first-rate. Sound 11/10 Music 11/10 Michael Fremer .analogplanet.
"This is a magnificent album, that should be in every record collection. In effect, it is the "highlights" of all the most famous Romantic ballets, by Tchaikovsky, Delibes etc. The sound is exceptional in every way, and particularly outstanding in outer detail and dynamic qualities. The sound is also BIG, and the instruments actually seem as large as they are in real life. This is an indispensable album, even for those who normally shy away from "Classical Music" - Arthur Salvatore High End Audio
RCA Living Stereo classical LPs the gold standard for top quality orchestral performance and sound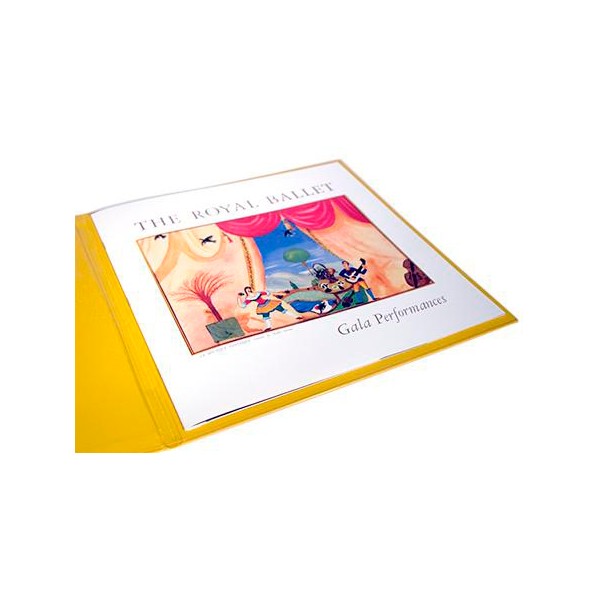 RCA Living Stereo classical LPs - the gold standard for top quality orchestral performance and sound!
Originally licensed in 1959 from British Decca and issued by RCA Victor in America on its lavish Soria series as LDS-6065, the "Gala Performances" performed by The Royal Opera House Orchestra, Covent Gardens conducted by Ernest Ansermet continues to draw new enthusiasts to what many consider one of legendary engineer Kenneth Wilkinson's most spectacular recordings.
Original pressings of the two LP boxed set in good condition regularly go for around $4000
The Kingsway Hall remains astonishing in every way, every play. The perspective is closer than mid-hall, which produces an enormously wide stage, and sensational front-to-back instrumental separation. Hyper-transparency and full bandwidth help create a believable (if not somewhat unbelievable) soundstage. The hall "rumble" is fully present so if your system goes really low you may at first think you're hearing turntable rumble. The in-between band silence lets you know it's the recording not the pressing or your turntable.
Ernest Ansermet conducts music from Swan Lake, Nutcracker, Sleeping Beauty, Sylphides, Giselle, Copelia, Boutique Fantasque, and Carnaval.
In the hearts of thousands, No. 1 on the Top RCA list. While the bulk of Ansermet's recordings were made with L'Orchestre de la Suisse Romande, there were a few with the Paris Conservatoire Orchestra and the very occasional foray into recordings with London orchestras, one of these being with the Orchestra of the Royal Opera House, Covent Garden, in 1959.
Audiophilia Online Magazine wrote: "This is the stuff of which dreams are made. The Royal Ballet Gala is one of the finest RCAs recorded in London's Kingsway Hall. The chunks of great ballet music are well served by orchestra, conductor and engineer. Performances are executed to a very high standard - the Royal Opera House Orchestra, both then and now, rank as one of the finest of opera orchestras.
"Conductor Ansermet keeps the pace moving, giving the listener the impression of a dance event rather than a dramatic concert hall reading. With the exception of some of the Tchaikovsky scenes, the music is light and remains so under Ansermet's gentle touch. Each ballet is given full attention by the players, something not always attained at Covent Garden during long ballet nights! The threat of eternity does have it's merits. The recorded sound is simply amazing! Lustrous is one word that comes to mind, accurate is another.
"Tonally, Messrs. Williamson and Wilkinson have used their considerable talents to capture the orchestra superbly. Woodwind and strings glow and resonate, transporting this listener to a time when simpler recording was better. Brass ring out thrillingly and percussion effects are very musical. Be it a bang, swish, rattle, crack or snap, each percussionist is situated perfectly within the beautiful Kingsway soundstage. Even the difficult-to-record sound of the celeste is captured in it's purely mechanical form. It's delicate sound is heard to great effect during the Nutcracker - originating stage left, the sound decays across the stage of Kingsway with sparkling beauty. Wonderful."
Producer: Michael Williamson
Engineer Kenneth Wilkinson
Musicians:
Orchestra of the Royal Opera House, Covent Garden
Ernest Ansermet, conductor
Tracklist
Nutcracker Suite
A1 March
A2 Dance Of The Sugar Plum Fairy
A3 Arabian Dance
A4 Chinese Dance
A5 Dance Of The Toy Flutes
A6 Waltz Of The Flowers
La Boutique Fantasque
A7 Tarantella
A8 Andante Mosso
A9 Can-Can
Coppelia
B1 Introduction (Allegro Marcato) And Mazurka - Act 1
B2 Introduction (Andante ) And Waltz - Act 1
B3 Czardas - Act 1
B4 Valse De La Poupee - Act 2
Giselle
B5 Introduction And Waltz - Act 1
B6 Pas De Deux And Variation - Act 2
Swan Lake
C1 Dance Of The Little Swans (Pas De Quatre) - Act 2
C2 Pas De Deux - Act 2
C3 Waltz - Act 2
Carnaval
C4 Pierror
C5 Reconnaissance
C6 Aveu
C7 Pantalon Et Columbine
Sleeping Beauty
D1 Introduction - The Lilac Fairy - Prologue
D2 Rose Adagio - Pase D'Action - Act 1
D3 Waltz - Act 1
Les Sylphides
D4 Overture: Prelude In A Major, Opus 28, No. 7
D5 Mazurka In C Major, Opus 67, No. 3
D6 Grande Valse Brillante In E Flat Major, Opus 18
We use the Original Tapes and work with only the Best Mastering Studios
Plated and Pressed at QRP the world`s Best Pressing Plant on Virgin Vinyl
Meticulous Test Pressing evaluation and Quality Control
Highest Quality Jackets and Rice Paper Inner Sleeves
Less than 1,000 Records per Stamper
Released in Limited Quantities