Has M A Recordings Produced the World's Finest Inner Sleeves?
Luxury storage for your vinyl
MA Recordings now offers the analog audiophile and vinyl enthusiast the most elegant LP storage solution conceivable. Our long term association with manufacturers in Japan, has empowered us to create the most beautiful Vinyl inner-sleeve ever produced. Made from two extremely soft synthetic fibers with inherent antistatic properties, these sleeves will not trap moisture and consequently, will prevent the growth of mold and mildew on the surfaces of your LPs.
Assuming you want to preserve the integrity of the playing surfaces of your LPs, these sleeves are simply a "no-brainer"!!
HOWEVER, imported Japanese elegance and innovation does not come cheap..... We at MA Recordings would like as many people as possible to acquire and enjoy these elegant, but simple creations. As you can see in the photo, they really are phenomenally beautiful! There is nothing like them...
Available in packs of 10 or 50 pcs,; not cheap by any stretch of the imagination, but again, these sleeves really are hands down, the best there is.
Once you've cleaned your records, keep them in optimum condition by storing them in one of the most elegant LP storage solutions conceivable. The archival quality sleeve, made from Japanese fibres, helps to maintain a low static charge in LPs and reduces the likelihood of scratching them.
"I inserted it into one of the M A inner sleeves. It felt soft going in, if you know what I mean and there wasn't even a hint of 'scraping" sound."
Michael Fremer, AnalogPlanet February, 2014
While the MA recordings are roughly twice the price of the Mobile Fidelity records inner sleeves bought in bulk, audiophiles should still consider buying a package or two with which to experiment. If nothing else, analog record lovers and collectors may want to store their most precious and irreplaceable LPs in the slightly more expensive MA Recordings inner sleeves. Highly recommended! Positive Feedback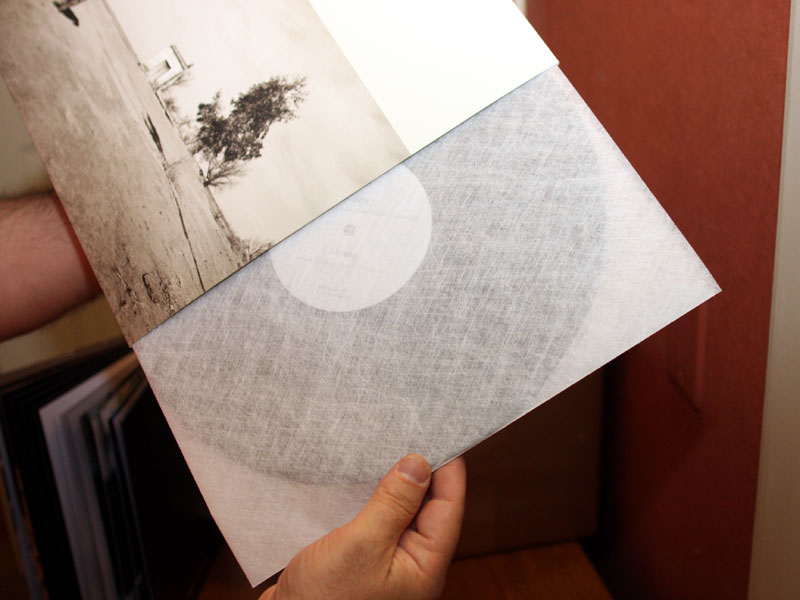 What Protective Sleeve for your records?
To meet the requirements of our customers, we have Four different kinds of Outer Sleeves in our catalog
Polyethylene , Polypropylene , PVC & Mylar . To facilitate your choice, we created this page to explain the characteristics of these Four materials:
Polyethylene: Flexibility
Polyethylene (PE) is Inexpensive flexible, soft & antistatic with a standard transparency. Suitable for Archival Storage.
Polypropylene: Transparency
Polypropylene (PP) Anti-Static & are ideal to highlight your records, thanks to their very high transparency and Glass like brilliance. The polypropylene Outer is very smooth and soft but also not as soft as the poly Outers This is because polypropylene is a harder material than polyethylene. Polylypropylene Provides cost-effective Long-Term Archival safe protection for all of you records - Acid Free , Crystal Clear Glass Like Material & 100% Transparent . Polypropylene has the strength and durability of Mylar, at a fraction of the cost
PVC: Rigidity
PVC Sleeves are both rigid and transparent (not as transparent as polypropylene). . Known for their durability and resistance.
but can discolour or cloud or crack with age or under UV light
PVC is NOT Suitable for safe Long-Term Archival safe protection for all of you records
PVC contains softners , plasticizers or stearates. PVC does migrate and can harm your Media .
MYLAR:
Record sleeves are made of museum grade Archival Polyester (Mylar), an inert material of the highest clarity. Polyester will not discolor, damage or adhere to items placed inside it. It is a sturdy film that will give extra support to fragile documents.. Polyester is used worldwide in museums, libraries and archives. Polyester material is approved by the Library of Congress for archival storage. This material has passed the Photo Activity Test. PAT
Polypropylene has the strength and durability of Mylar, at a fraction of the cost
INNER SLEEVES
Long-Term Archival safe protection for all of you records - Acid Free , HDPE ( Rice Paper ) Lined , Anti-Static Inner Sleeves
It is nevertheless a safe bet that 99%+ % of Audiophiles & Record Collectors would agree that LPs shouldn't be stored in plain paper sleeves.
Cheap, non-acid-free paper sleeves degrade with time. Paper is derived from the cell wall of plants; lignin, one of the chemicals contained in the cell walls, is unstable and light sensitive and decomposes into acidic products. While bleaching removes the lignin, the paper making process produces other detrimental byproducts such as hydrochloric acid or sulfuric acid.
Producing true, acid-free paper (pH >6) requires buffering with neutralizing chemicals.
Paper sleeves are also hygroscopic (water absorbing) and as a consequence facilitate the growth of mold or fungus on the LP.
The rationale for storing and preserving vinyl records in high quality, chemically inert, inner sleeves includes:
Neutralizing the record's static charge and preventing static buildup when pulling the LP out of the record sleeve
Preventing the record jacket or dirt from scratching the record
Long-Term Archival safe protection for all of you records - Acid Free , Lined , Anti-Static Inner Sleeves
Polyethylene film lining. The film has antistatic properties and contains no additives such as Softeners or similar products that could react with the vinyl of the records. Lined sleeves are much smoother on the inside than unlined paper sleeves, a difference you are sure to notice immediately when removing and inserting your records.
"HDPE sleeves have major advantages over paper inners. Paper ones have one smooth side but one rough side, so that they can be printed on, and this means that they are more prone to marking the vinyl. Furthermore, a lot of collectors are unaware of the fact that a HDPE bag should have paper that looks old, not bright white. Pristine paper is more expensive and naturally yellower, ash-free and unrecycled, while bright white has optical enhancers, costs a third less, but is lower quality and, with continuous usage, will shed particles and leave paper dust on the vinyl.

As for the poly inner itself, you need to ensure that it's not PVC – you can tell by its smell, which is produced by artificial softeners. Polyethylene has no softeners, which can leach into paper or onto the vinyl, and though low-grade polyethylene can produce a white dust, HDPE sleeves will not,and they have the bonus of an anti-static additive that prevents vinyl from sticking to them. Static electricity attracts dust and you need to minimise its presence. Also, HDPE has a melting point of around 130C, so it's stable in most heating conditions and it copes with humidity very well.
RECORD CLEANING
EVERY RECORD IN YOUR COLLECTION SHOULD BE CLEANED BEFORE YOU PLAY IT AGAIN, AND EVERY RECORD ADDED TO YOUR COLLECTION SHOULD BE CLEANED BEFORE PLAYING.
Every record, even if thought to be cleaned, is soiled with a wide range of dirts and contaminants, including mold and mildew. Vinyl discs are also coated with sticky compounds.removing pressing debris and 'mold release compound' from sealed LP Contaminants between the groove and diamond styluse cause mistracking and are abrasive resulting in unnecessary, excessive wearing of both record and stylus. By interfering with proper groove tracing, dirty records produce inaccurate, noisy sound.
Resulting in reduced sound quality
Reduction in Stylus Life span
Increaesd Record wear
Increasing Static , pops & Clicks
Clean all your records
1/ Manually with a commercial record cleaning fluid & Wet Record Brush
2/ Record Cleaning Machine RCM - Vacuum or Ultrasonic
this is NOT a expense but a Investment for your music collection
A CLEAN RECORD IS A HAPPY RECORD