Mobile Fidelity - UD1S 2-009 - UltraDisc - SuperVinyl - 180 Gram Virgin Vinyl
Ultradisc One Step Pressing UD1S
6,000 Numbered Limited Edition - 45RPM -
1/4" / 15 IPS analog master to DSD 256 to analog console to lathe
The Absolute Sound Super Disc List TAS Harry Pearson Super LP List
Lavish Packaging Includes Opulent Box, Foil-Stamped Jackets, and World's First MoFi SuperVinyl LPs: Deluxe Audiophile Set Strictly Limited (Limit Two Per Customer)
Bill Evans made two albums in 1959 that had a profound impact on jazz history - Kind of Blue with Miles Davis and this debut disc by Evans' first permanent working unit. The fluidity and interdependence these three developed forever changed the face of the piano trio, introducing new notions of shading, balance, and poetic lyricism, not to mention the superhuman virtuosity of the tragically short-lived bassist Scott LaFaro.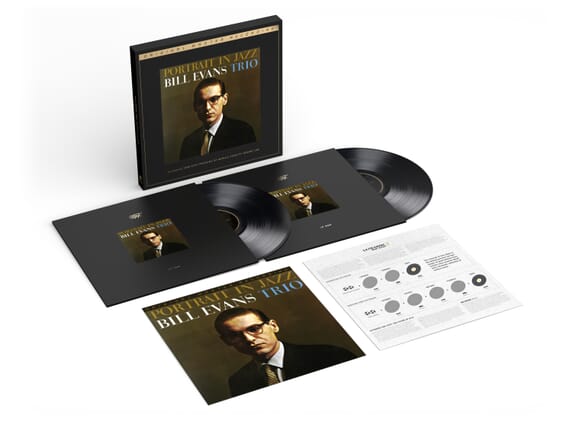 Mastered from the Original Master Tapes with Mobile Fidelity's One-Step Process: Portrait in Jazz UD1S 180g 45RPM 2LP Box Set the Ultimate Analog Version of Bill Evans' Studio Breakthrough
Luxurious Packaging Includes Opulent Box, Foil-Stamped Jackets, MoFi SuperVinyl LPs Pressed at RTI: Keepsake Edition Strictly Limited to 6,000 Numbered Copies (Limit Two Per Customer)
1960 Album Marks the Birth of the Modern Piano Trio: Bass Assumes a Lead Role for the First Time in History, Prized Group Plays with Resplendent Soulfulness, Poetic Modality, and Sublime Empathy
It's impossible to exaggerate the stature, brilliance, and splendor of Bill Evans' Portrait in Jazz. The result of Evans having collaborated just eight months prior with Miles Davis, John Coltrane, and company on the watershed Kind of Blue and soon after finding a bassist (Scott LaFaro) who suited his style and boasted world-class chops, the 1960 album established the standard that all similarly configured jazz trios continue to follow. This is the moment the bass, until then relegated to accompaniment status, gets an equal say in the compositions with the piano. That Evans, LaFaro, and drummer Paul Motian deliver each passage with resplendent soulfulness, poetic modality, and sublime empathy only adds to its charm. Not to mention Orrin Keepnews' demonstration-quality production that now sounds utterly transcendent.
Mastered from the original master tapes, pressed at RTI on MoFi SuperVinyl, and strictly limited to 6,000 numbered copies, Mobile Fidelity's opulent UD1S (UltraDisc One-Step) box set provides sonic and tactile experiences that match the quality of the music within Evans' studio breakthrough. You'll enjoy deep-black backgrounds, pointillistic details, and staggering dynamics. Experienced via UD1S, Portrait in Jazz places Evans and his esteemed colleagues in your listening room. Every note, harmonic, and movement captured by the microphones are reproduced with exquisite accuracy and wowing clarity. Close your eyes at you're practically at Reeves Sound Studios in New York City in late December 1959.
The lavish packaging and luxurious presentation of Mobile Fidelity's Portrait in Jazz UD1S pressing befit its extremely select status. Housed in a deluxe box, the collectible version contains special foil-stamped jackets and faithful-to-the-original graphics that illuminate the splendor of the recording. Aurally and visually, it exists a curatorial artifact meant to be preserved, poured over, touched, and examined. It is made for discerning listeners that prize sound quality and creativity, and who desire to fully immerse themselves in the art – and everything involved with the album, from the images to the textures and liner notes.
Pored over by generations of listeners and musicians alike to grasp the group's then-revolutionary approach, high-wire interplay, and seamless chemistry, Portrait in Jazz retains a blend of timeless classicism and forward-looking modernism that makes it as revered now as it was nearly six decades ago. The three instrumentalists operate in complete unison and achieve supreme democratic balance. Expressing their intent via shared conversations, they alight on sublime pieces flush with thematic discovery, swing-based dialogue, and raw feeling.
Writing for The Penguin Guide to Jazz, Richard Cook and Brian Morton attempt to put it all into context: "The bassist's melodic sensitivity and insinuating sound flowed between Evans and Motian like water...the playing of the three men is so sympathetic that it set a universal standard for the piano-bass-drums setup [that] has persisted to this day." Indeed, hearing Evans and his mates put their signature stamp on standards ("Come Rain or Come Shine," "Witchcraft," "Autumn Leaves") and originals ("Peri's Scope," "Blue in Green") is akin to witnessing new trails blazed for generations to come. Their Evans-deemed "simultaneous improvisation" teems with freshness and sensitivity, their rhythms and lines pregnant with an irresistible combination of vulnerability, confidence, energy, and elan.
To even think Portrait in Jazz marked the first session with LaFaro boggles the mind. To then consider the man Evans credited as "more or less the father or the wellspring of modern players" would be dead 18 months after completing the record in the studio invokes a cascade of emotions – and lends even greater gravitas to the work's import.
History only allows for so many "firsts." Portrait in Jazz claims such a designation. It meets every definition of must-have and you'll never hold or hear a better copy than Mobile Fidelity's UD1S edition.
More About Mobile Fidelity UltraDisc One-Step and Why It Is Superior
Instead of utilizing the industry-standard three-step lacquer process, Mobile Fidelity Sound Lab's new UltraDisc One-Step (UD1S) uses only one step, bypassing two processes of generational loss. While three-step processing is designed for optimum yield and efficiency, UD1S is created for the ultimate in sound quality. Just as Mobile Fidelity pioneered the UHQR (Ultra High-Quality Record) with JVC in the 1980s, UD1S again represents another state-of-the-art advance in the record-manufacturing process. MFSL engineers begin with the original master tapes and meticulously cut a set of lacquers. These lacquers are used to create a very fragile, pristine UD1S stamper called a "convert." Delicate "converts" are then formed into the actual record stampers, producing a final product that literally and figuratively brings you closer to the music. By skipping the additional steps of pulling another positive and an additional negative, as done in the three-step process used in standard pressings, UD1S produces a final LP with the lowest noise floor possible today. The removal of the additional two steps of generational loss in the plating process reveals tremendous amounts of extra musical detail and dynamics, which are otherwise lost due to the standard copying process. The exclusive nature of these very limited pressings guarantees that every UD1S pressing serves as an immaculate replica of the lacquer sourced directly from the original master tape. Every conceivable aspect of vinyl production is optimized to produce the most perfect record album available today.
MoFi SuperVinyl: The World's Quietest Surfaces and Cleanest Grooves
Developed by NEOTECH and RTI, MoFi SuperVinyl is the most exacting-to-specification vinyl compound ever created. Analog lovers have never seen (or heard) anything like it. Extraordinarily expensive and extremely painstaking to produce, the special proprietary compound addresses two specific areas of improvement: noise floor reduction and enhanced groove definition. The vinyl composition features a new carbonless dye (hold the disc up to the light and see) and produces the world's quietest surfaces. This high-definition formula also allows for the creation of cleaner grooves that are indistinguishable from the original lacquer. MoFi SuperVinyl provides the closest approximation of what the label's engineers hear in the mastering lab.