Enjoy Movies , Games , Sports & TV in style
Defintive Technology XTR-50 5.1 Speaker System
Onkyo TX-RZ740 9.2 Channel AV Imax Receiver with Dolby Atmos 155wpc
10 Metres Talk Speaker Cable
3 x XTR-50 Ultra-Slim On Wall / On Shelf Flat Speakers
2 x XTR20BP Surround Bipolar Speakers
1 x SuperCube 2000 Active Subwoofer
1 x Onkyo TX-RZ740 9.2 Dolby Atmos . Imax Enhanced Home Cinema AV Receiver with 185wpc
BOTTOM LINE - Listening to the Definitive Technology Mythos XTR-50 do its stuff with movie soundtracks was like watching a 98-pound fashion model sling an 80-pound bag of cement over her shoulder: It's hard to believe it's possible even after you've witnessed it. I wouldn't hesitate to recommend the XTR-50 even for a large, serious media room. And given that Definitive Technology has priced it no higher than most other on-walls even though there's nothing else like it on the market, it's a fantastic bargain.- soundandvision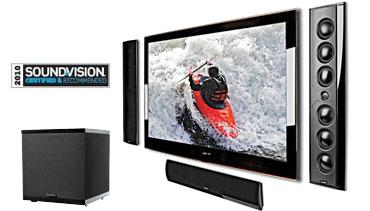 Definitive Technology Mythos XTR-50 Ultra-slim high performance on-wall or on-shelf loudspeaker each
The Definitive Mythos XTR-50 is the first high performance on-wall speaker whose depth matches that of today's ultra-thin TVs. It is a mere 1.5" deep when mounted on a wall, shallower than many ultra-thin TVs when they are wall-mounted with their factory sanctioned mounting hardware. Beyond its utility and clean modern styling the XTR-50 stands out due to its uncompromising sound quality equivalent to full-size speakers. Definitive's engineers have unleashed their awesome creativity and brain power to develop this revolutionary speaker that has the high definition detail and dynamic range performance of large speakers yet is a mere 1.5" deep. No other speaker complements your ultra-slim television with more style, versatility and sheer performance.
Revolutionary XTDD Technology Drivers
The secret to the XTR-50's extraordinary performance is Definitive's patented XTDD technology anodized Aluminium dome driver. Using state-of-the-art computer modelling and decades of speaker design experience, Definitive engineers eliminated every iota of wasted space, optimized every part and maximized the moving surface area of a dynamic driver to shrink it down to an impossibly compact dimension without giving up ultra high performance audio fidelity! The XTDD driver has the kind of dynamic punch, wide frequency range and broad dispersion that flat vibrating membrane panel-type speakers simply cannot match.
To extend and deepen the bass response of such an impossibly thin speaker the XTDD drivers are pressure coupled to four anodized Aluminium dome bass radiators. The centre-mounted tweeter is the same hyper-definition Pure Aluminium Dome Tweeter found in Definitive's award-winning state-of-the-art Mythos ST SuperTower®. The total effect is the kind of clarity, dynamic range and extended response that one would expect from a premium-priced normally-sized speaker. Your friends and family will be agog with amazement when they hear the huge rich sound that comes out of the wafer-thin XTRs.
9.2-Channel Network A/V Receiver - Immense power for unparalleled speaker control
9.2 Channel amp for future addition of Extra On wall or In wall Speakers & Subwoofers
A glance at the TX-RZ840's imposing front panel reveals a component built for one purpose: making your smile wider as the volume goes higher. Its thick chassis is loaded with custom parts tested and tuned to THX® Certified Select™ reference standards, handling massive current flows for sound you feel emotionally and physically. Beyond 3D surround supporting IMAX® Enhanced*1 content up to 11.2 channels, and a finessed touch that breathes life into stereo music, the receiver forms a hub for house-wide entertainment with Next-Generation Network Audio integrating AirPlay 2, Works with Sonos, Chromecast built-in*2, and more over 802.11ac Wi-Fi®*3. Three-zone powered D/A audio distribution is easily managed from your smartphone. With state-of-the art connectivity and custom-installation interfaces included, it's the TX-RZ840's visceral presence you'll find most difficult to resist
215 W/Ch THX® Certified Select™ RZ Series DAA system
-Ultra-wide 5 Hz–100 kHz frequency response
-Works with Sonos, Chromecast built-in*1, AirPlay 2, DTS Play-Fi®, FlareConnect™*2, Spotify®, Amazon Music, TIDAL, Deezer, TuneIn*3
-Supports 5.2.4-ch Dolby Atmos® and DTS:X® playback
-11.2-ch pre-outs and processing for 7.2.4 layouts
-Dolby Atmos Height Virtualizer*4
-IMAX® Enhanced*4 certified for IMAX® digital re-masters
-HDMI® Main output with eARC, HDMI Sub/Zone 2 Out*5
-Refined HDMI grounds, SoC board, and power amps
-Quad-core SoC supports 802.11ac (2x2 MIMO) Wi-Fi®*6
Mythos XTR-20BP Slim bipolar surround speaker
When gorgeous hand-polished aircraft-grade aluminium houses the same active drivers and tweeter of bigger speakers within the same series, what you get is a physically smaller speaker that punches above its weight. Mounted or shelved, the state-of-the-art engineering in the XTR-20BP brings dynamic sound, pinpoint imaging and superb realism to life just like its XTR siblings.
SuperCube® 2000
Ultra-Compact High Performance 650W Powered Subwoofer With 7.5" Woofer and Dual 7.5" Bass Radiators
Huge bass performance from an ultra-compact enclosure measuring just .6 cubic feet
Delivers explosive bass response and tight musical accuracy
Class HD 650-watt power amplifier delivers max output with low distortion
High-gloss lacquer finish complements any décor
Now you have BIG Dolby Atmos sound - Why not Add the Big Picture ( not included )
HD , UHD , 4K Bluray Players & TV & Projector Systems
16.9 Screen & other Aspect Ratios with Tensioned , Motorized , Curved & Acoustically Transparent Screens
Engineered for Dolby Atmos sound - Optimised for Dolby Atmos, you can now experience the wonder of Dolby Atmos in your own home. Producing a multi-dimensional and totally immersive sound, Dolby Atmos has been hailed as the greatest advance in surround sound for 20 years - so don't miss out!