Jamo has produced an endearing and fun 7.1 Atmos package at a budget price The S 807 HCS isn't just a great speaker package due to its cost, though, nor simply because of its size and practicality. it is a really decent home cinema system. But we'd be more than happy to go to the movies with Jamo any time.- What Hifi
This Jamo Atmos-ready system provides impressive immersion and solid value - soundandvision.com
When it comes to captivating home theatre audio from a smart, stylish system, Jamo's Studio 8 series ticks all the boxes. An ideal starting point for a multichannel setup, the S 809 HCS package of two floorstanders, centre speaker and pair of bookshelf surrounds can be strengthened by the addition of the compact but powerful S 810 SUB for extra low-end grunt. Meanwhile, Jamo's S 8 ATM upfiring speakers, which integrate seamlessly with floorstanding models, provide a Dolby Atmos upgrade path. The performance here is accurate, well-balanced and enveloping, and the slim, elegant cabinets with grey fabric grilles result in 5.1.2 package that looks every bit as good as it sounds.- EISA
Jamo Studio 8
Bring your movies and music to life with the encompassing lifelike acoustics of a true surround sound home cinema system. Featuring WaveGuide technology that delivers dynamic, powerful sound - Jamo home theaters deliver cinematic performance with a contemporary, elegant aesthetic.
The flagship 5.1.2 Home Cinema System in the Studio 8 range includes two S 809 Dolby Atmos ready tower speakers so you can easily upgrade to the overhead effects of this latest advancement in home theater when your ready.
Premium Sound, Affordable Cost
By purchasing as a Home Cinema System (HCS), you can make a significant saving against buying the component parts separately. The S 809 HCS system includes:
2 x S 809 floor-standing speakers
2 x S 8 ATM Atmos Speakers
1 x S 81 CEN centre-channel speaker
2 x S801 Surround Speakers
1 x S810 Subwoofer
Completely New, Completely Modern
The new Jamo Studio 8 series has been completely reimagined to live seamlessly in modern, premium environments. Contemporary material and finish choices accentuate the clean, minimalist lines of this European design, while the compact cabinet designs with front-facing reflex ports are an ideal solution for urban living environments around the world. For this reason, the Studio 8 series loudspeaker range all employ thick, stylish, magnetic woven grilles.
Key Features:
Complete 5.1.2 channel home cinema system
S 809 are Dolby Atmos ready when adding the S 8 ATM
Elegant, contemporary design
Black, Walnut and White finishes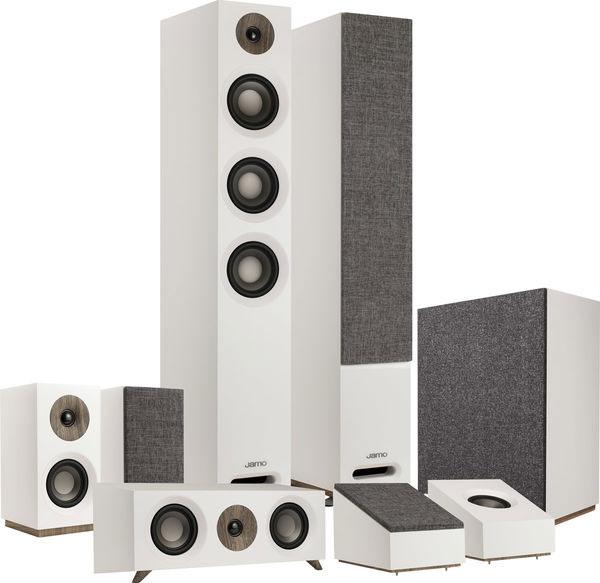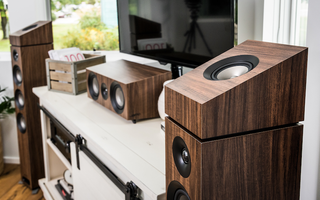 Now you have BIG Dolby Atmos sound - Why not Add the Big Picture ( not included )
HD , UHD , 4K Bluray Players & TV & Projector Systems
16.9 Screen & other Aspect Ratios with Tensioned , Motorized , Curved & Acoustically Transparent Screens
Engineered for Dolby Atmos sound - Optimised for Dolby Atmos, you can now experience the wonder of Dolby Atmos in your own home. Producing a multi-dimensional and totally immersive sound, Dolby Atmos has been hailed as the greatest advance in surround sound for 20 years - so don't miss out!