Award winning 5.1 Planet M Speakers & Compact Subwoofer
Easy expansion to 7.1/7.2 Atmos with additional Speakers & Subwoofers
Compact , Modern , Stylish French Chic Design & Performance for Movies & Music
Mounting Ceiling , In-Ceiling , Floor , Tripod & Wall Brackets & Stands
Black , White & Red options scroll to bottom of page
The Planet M and Planet Sub n is great fun to listen to and a genuinely impressive design. The star of the combination is the Planet M satellite which takes all of the appealing performance aspects of the larger Planet L and adds extremely unfussy positioning and relatively compact dimensions to the mix.Sound 8/10 Highly Recommended AF Forums
Clever design and great build; excellent tonality with both film and music material; flexible setup options - Homecinema Choice
Planet L Subwoofer
The Planet L Sub has the same DNA as Elipson's Planet line: its exceptional design and uncompromising sound fidelity bear witness to its prestigious lineage. Integrating a 20 cm speaker alive with 200 watt amplification, this bass unit offers musical excellence and a sense of versatility so it's at home as part of your stereo setup and it's just as comfortable anchoring your home-cinema configuration. Uniting elegance and performance, Planet Sub guarantees to fit in harmoniously with your Elipson spheres.
Whether it's right for you will ultimately depend on whether you like the distinctive look. If you do, this is an incredibly gifted loudspeaker with a genuine talent for making music and bringing detail to the fore. What further recommendation do you need? Tech Radar
Conclusion
Dismissing these as interior design items would be a big mistake. Granted, they are pretty, but they also sound as good as you can expect a speaker of this price and size to sound. Owners of enormous listening rooms and fans of hard rock need to look elsewhere, but for the rest of us these are just wonderful, captivating loudspeakers. They are especially good at reproducing a realistic soundstage and simply outstanding with voices. More designed to be refined and relaxing than to be loud and imposing, they are an absolute joy to listen to (and to behold) and easily get my highest recommendation. TNT Audio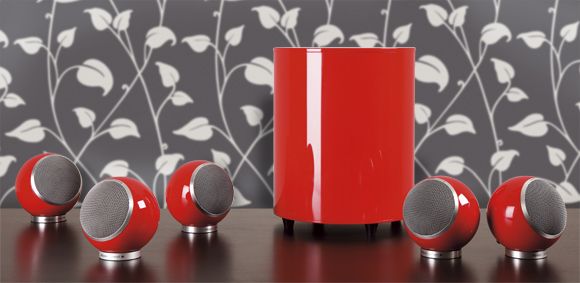 .
The speakers are supplied with the speaker support ring. Four other options are available to purchase - the ceiling mount which includes 5 metres of chain, an in-ceiling mount, a wall mount, and a floor stand.& Subwoofer