Klipsch 5.1.2 Reference Home Cinema Speaker Package
2 x R-620F Floorstanders
1 x R-34C Centre Speaker
2 x R-51M Surround Speakers
2 x R-41SA Dolby Amos Height Surrounds
1 x R-100SW Subwoofer
1 x Denon AVRX2500 7.2 Home Cinema 4K Receiver 95wpc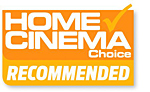 Klipsch Reference 5.1.2 verdict - It's hard to think of systems that come in at a similar price that offer demonstrably more bang for your buck than this one. Klipsch's cabinets aren't small and their rear-ported designs will work best with the speakers given a little space, but their sensitivity and exceptional integration will win many over. There's scale and impact here that ensures a cinematic performance, and when the sonic results are this convincing, aesthetic concerns (such as the driver colour and angular design of the upfiring models) begin to fade away. 5/5 Home Cinema Recommmended
Specification
R-620F ( L + R ) Front Floorstanders
Drive units: 2 x 6.5in IMG woofers; 1 x 1in Tractix tweeter
Enclosure: Ported
Frequency response : 38Hz-21kHz
Sensitivity : 96dB
Power handling (claimed): 100W
Dimensions: 240(w) x 1,017(h) x 386(d)mm
Weight: 18.6kg
R-51M Surrounds
Drive units: 1 x 5.25in IMG woofers; 1 x 1in Tractix tweeter
Enclosure: Sealed
Frequency response 43Hz-25kHz
Sensitivity (claimed): 93dB
Power handling: 150W
Dimensions: 600(w) x 310(h) x 250(d)mm
Weight: 15kg
R-41SA Atmos Upfiring Surround Height Speakers
Drive units: 1 x 4.5in IMG woofer; 1 x 1in Tractix tweeter
Enclosure: Ported
Power handling 50W
Dimensions: 146(w) x 180(h) x 331(d)mm
Weight: 2.7kg
R-34C Centre Speaker
Drive units: 4 x 3.5in IMG woofers; 1 x 1in Tractix tweeter
Enclosure: Ported
Frequency response 82Hz-21kHz
Sensitivity (claimed): 96dB
Power handling 100W
Dimensions: 660(w) x 133(h) x 157(d)mm
Weight: 5.6kg
R-100SW Active Subwoofer
Drive units: 1 x 10in forward-firing IMG woofer
Enclosure:Ported
Frequency response 32Hz-120Hz
Onboard power 150W
Remote control: No - wireless optional kit
Dimensions: 318(w) x 368(h) x 417(d)mm
Weight: 10.9kg
Features: LFE input; stereo phono input; volume, crossover and phase control
The Klipsch WA-2 Wireless Subwoofer Kit is also avalaible ( not included )
.
Denon AVRX2500 7.2 channel AV receiver
The Denon AVR-X2500H can be connected to your smart TV remote via the HDMI CEC function, to allow you easy access to the AV receiver, without swapping remotes. There are also four quick select buttons on the front panel to store your preferred settings for each source, between TV, Blu-ray, consoles, depending on what you need the most.
The AVR-X2500H is part of Denon's custom integration friendly AV components, meaning it will have compatibility capabilities with third-party control devices and Control4 SDDP for quick and easy setup with home automation equipment
7.2 channel AV receiver
7 channels with 95 watts powering each channel
Eight HDMI inputs and two HDMI outputs with HDCP 2.2
Supports Dolby Atmos, DTS:X and DTS Virtual:X surround sound systems
Audyssey MultEQ XT room acoustic measurement system
Streaming from Spotify, Apple AirPlay, TuneIn and Deezer via Bluetooth connection
Amazon Alexa voice control with the HEOS Home Entertainment Skill app
Audio playback of files 24 bit/196kHz resolution
HEOS Multi-room wireless home system built-in
Klipsch Reference 5.1.2 performance
Horn-loaded tweeters came into being in part because they increased the sensitivity of a speaker – useful in the time of valve amps. This Reference Series array hasn't lost this trait (the R-620F's sensitivity rating is 96dB) and needs very little power to go meaningfully and impressively loud. This in turn lends an effortlessness to their presentation that really helps with largescale events. With the complex sequence in Atomic Blonde (Blu-ray) where Lorraine and Spyglass attempt to escape to the West, the Klipsch excels. Crowd scenes are packed with sonic details that are resolved very effectively – I felt I was in the midst of a mass of people. One of the reasons why this is as convincing as it is comes down to the ability of all the main speakers (and to an extent, the height channels as well) to impart a sense of weight in their own right. Lower mid-tones/upper bass registers are robust, and the benefit this grants the pack is considerable.
When the woofer is really called into action, it proves to be a fine performer that complements the passive models well. The detonation of explosive charges that sets off the attack on Scarif in Rogue One: A Star Wars Story (Blu-ray) is a case in point. Despite the meagre specification, the R-100SW delivers LFE that is felt as well as heard and does so with an absence of bloat or overhang. It seems Klipsch has worked hard to ensure that the cabinet, amplifier and driver work together in a manner that is greater than the sum of its parts- Homecinemachoice
Engineered for Dolby Atmos sound - Optimised for Dolby Atmos, you can now experience the wonder of Dolby Atmos in your own home. Producing a multi-dimensional and totally immersive sound, Dolby Atmos has been hailed as the greatest advance in surround sound for 20 years - so don't miss out!
Now you have BIG Dolby Atmos sound - Why not Add the Big Picture ( not included )
HD , UHD , 4K Bluray Players & TV & Projector Systems
16.9 Screen & other Aspect Ratios with Tensioned , Motorized , Curved & Acoustically Transparent Screens
Our founder, Paul W. Klipsch, was an engineer, inventor, madman and certified genius. He spent his life trying to bring the world better sound. Since 1946, we have carried on our founder's passion for delivering the best home audio experience possible.
You're not buying a speaker - you're buying a piece of American audio history built on more than 70 years of badass acoustic technology.