This is a high quality moving magnet cartridge designed primarily for DJ & Disco use, but has also found favour with audiophiles thanks to its sound quality and Elliptical Diamond stylus. The already dynamic sounding original cartridge comes with a lot of refinement, too once modified.Certainly not a competitor to top MC systems, but so appealing in character that it delivers a lot of listening fun. Maybe a silly (and not quite precise) food comparis makes you get the idea.If your High End MC cartridge is Champagne and star cuisine, then this MM system is Whiskey with a BBQ Steak.
I've found the cartridge to really excel with rock-n-roll records, but there are still timest. For example, on Transformer the bass is full and round in just the foundational way that I want it to be. It's big and in-your-face without tubbiness or any obvious distortion. Of course, it's also less than neutral, but I hardly care about that when it sounds so much like real-life rock-n-roll sex music.-Lenco
It is still possible: you can buy in well-known marketplaces disc players, which are still far from the 100 euro mark. This can even be a device that provides decent quality. If it still does not sound, the problem almost always at the very front of the tonearm. ... The Tonar system offers ... an appealing performance, perhaps playing a track harder and more mid-tweeter than the ATs - in any case, it does not have to go back in terms of quality behind the proven hi-fi systems. LP Germany
Tonar – Diabolic E cartridge with high output : 8mV.
The Diabolic-E cartridge is suitable for classic mixing and scratching.
The stylus has an eliptical diamond needle for excellent playback and reliability.
Ebony or Cocobolo Improved Wood Body Version
( with simply partial emoval of standard plastic body for improved performance )
Ideal Low Cu Cartridge for new / classic High Mass / Medium Mass - Jelco / Sme etc
wooden body version .
I really like this cart especially with the mods, if you have original 50's and 60's Jazz vinyl the sound is very addictive to say the least. Ive tried the combo on a wide range of music and still enjoy the sound its awesome on rock music from the 70's. - LPReview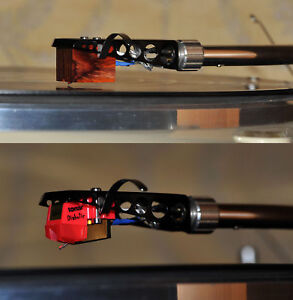 Specifications:
Cartridge weight 5,0 grams
Stylus tip shape-radius: Elliptical diamond
Frequency Response: 20-24.00Hz +–4dB
Output Voltage: 8,0 mV (5 cm-sec)
Channel Separation: More Than 18dB(1 KHz)
Channel balance: 2.0 dB or less (1 KHz)
Compliance: 6,0 x 10-6 cm-dyne
Trackingforce: 4-5gr. opt. 4,5gr
Load resistance: 47 KΩ
Stylus tip radius: Elliptical
Stylus material: Diamond
Tip Diameter: 0,3mm
Vertical tracking angle: 20o
Recommended load resistance: 47 kΩ
Recommended load capacitance: 400 pF
Replacement stylus: Tonar N 1953