Quality 1st Complete Vinyl System or Ideal for Office or Bedroom
Project - Primary E Phono Turntable with Ortofon OM Cartridge with built in Phono Stage
Tangent - Ampster BTII 50wpc Integrated Amplifier with Dac & Bluetooth
Tangent - X4 Bookshelf Speakers + 3metre Pair of Speaker cables
What Hi-Fi? Awards 2018 winner. A great first turntable Project Primary E 5/5
If you require a quality mini-system or want to start building something with greater scope, the Tangent Spectrum X4 should be on your shortlist for an audition 5/5 What Hifi
Tangent's micro system is compact, beautifully built and affordable. But, more importantly, it sounds great – all the ingredients for a must-buy - 5/5 HifiChoice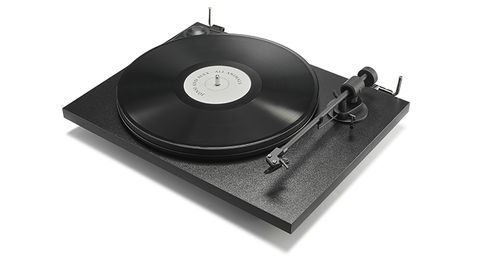 Audiophile plug&play turntable with built-in phono stage and switchable phono/line output
Pro-Ject's response to cheap turntables: Primary E Phono
With a smart design of the tonearm we were able to combine pure sound quality with an easy setup. Our Plug & Play design with pre-adjusted tracking force and anti-skating has saved us costs and is extremely efficient in handling for our customers. With no compromise in sound. On contraire, the lightweight and low friction aluminium tonearm is optimized for the Ortofon cartridge and will bring out its maximum potential. The Primary E Phono is equipped with a switchable phono or line output, so it can be run with a dedicated external phono preamp or with the integrated phono preamp connected to a line input (for example AUX, CD, Tuner, Tape, etc.). With intelligent construction and without needless features we were able to keep the price attractive, despite it being hand made in Europe. This way we're able to offer our customers the maximum of sound quality!
Built-in phono stage
Switchable phono and line output
Belt-drive with synchronous motor
Ortofon quality cartridge
Vibration absorbing feet
NO plastic
Machined special composit fibre chassis
Light-weight, high-precision aluminium tonearm
Sapphire tonearm bearing
Gold-plated contacts
Stainless steel bronze bushing
Elegant dust cover with adjustable hinges
Silicon belt with optimum damping
Tangent Ampster X4 Micro System is ideal as a starter system for a student or music lover who doesn't own CDs but prefers to stream their tracks via Bluetooth from their smartphone or tablet, or someone who's followed the vinyl trend and wants to enhance the audio quality of their new deck, by connecting to a stylish and versatile hi-fi system.
Powerful and connected
The BT Ampster is a micro-sized amplifier with big sound and a multitude of connectivity options, including Bluetooth 4.0 wireless, digital optical input for use with a TV, RCA and AUX analog inputs and Sub output. Compact and powerful, the AMPSTER BT offers 2 x 50 watts of premium audio quality, controlled by an elegant remote control, to switch between sources and adjust the volume. The Tangent Spectrum X4 speakers, combined with a radical and contemporary design, offer a compact solution, offering attractive finishes in midnight black or polar white with beautiful walnut finished pedestals. The X4s feature a 25mm soft-dome fabric dome tweeter with wide dispersion and 110mm midrange drivers.
Bluetooth 4.0
Digital and analog input
AUX input
Remote control
Standby function
Volume memory
Optional wall bracket
Optional ceiling support
Future Expansion with matching CD Player , Radio , Subwoofer , Speaker Wall bracket & Stands ( NOT Included )