Audio Fidelity - AFZ 254 - Hybrid SACD Stereo
Mastered By Steve Hoffman - Numbered Limited Edition - Plays On ALL CD Players
While Run DMC and the Beastie Boys were rap groups who rocked, Rage Against The Machine were one of the earliest hard rock bands to rap. Tom Morello's distinctive guitar sound and vocalist Zack de la Rocha's messages of political and social consciousness came together to great effect, as RATM attained legendary status among 1990s alt-rock fans. The band released their second album Evil Empire (1996), debuting at No.1 in the Billboard charts.
"Lead vocalist Zack de la Rocha is caught halfway between the militant raps of Chuck D and the fanatical ravings of a street preacher, shouting out his simplistic, libertarian slogans over the sonically dense assault of the band... guitarist Tom Morello demonstrates an impressive palette of sound, creating new textures in heavy metal, which is quite difficult." - Stephen Thomas Erlewine, allmusic.com
"On a sonic level the band still anchors its sound in the music of Led Zeppelin and Red Hot Chili Peppers, but its horizons have widened, and it now incorporates influences like Fugazi and Helmet. Rage also have acquired a greater understanding of hip-hop and funk and have injected the techniques of artists such as Dr. Dre, Cypress Hill, and Sly and the Family Stone into their turbocharged rhythms. As a result, there's a greater synergy between the music and the message." - Jon Wiederhorn, Rolling Stone

Musicians:
Zack de la Rocha, lead vocals
Tom Morello, guitar
Tim Commerford, bass, backing vocals
Brad Wilk, drums
1. People Of The Sun
2. Bulls On Parade
3. Vietnow
4. Revolver
5. Snakecharmer
6. Tire Me
7. Down Rodeo
8. Without A Face
9. Wind Below
10. Roll Right
11. Year Of Tha Boomerang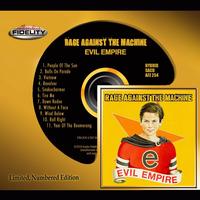 THE ULTIMATE SOUND QUALITY FROM AUDIO FIDELITY
You've never heard your favorite music sound this good!
The clarity is truly exceptional.
Engineers Steve Hoffman and Kevin Gray use their 30 years of expertise to create the best sounding versions of the music ever released.
Our Vinyl series of 180g Virgin Vinyl 12" LPs features some of the classic recorded concert performances of all time. These are both single or double-gatefold album packages that include all the details and imagery of the recorded performance. The titles in the series include albums at both 33 1/3 rpm as well as some soon to be released at 45 rpm for the peak in quality of sound. This unique set of recordings truly lives up to our name by offering the ultimate sound experience, absolute Audio Fidelity.
Audio Fidelity, it's as simple as 1-2-3……our three basic principles
To be associated with classic artists and entertainers;
To keep the integrity of the artist's original vision intact; and,
To reproduce vintage recordings with the finest quality sound based on our supreme standards of quality control.