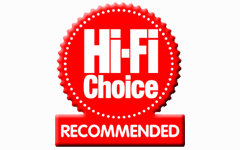 • Improved PWM-circuitry (Pulse Wave Modulation)
• Improved signal spectrum and lower distortion
• 2 ohms drive capability
• High efficiency from mains to audio power (92%)
• DC power supply (< 1 watt standby power)
• Low heat emission
• Stereo line level input (RCA)
• Gold-plated 5-way speaker binding posts
• Suitable for banana/spade/pin/bare wire
• Trigger input & loop out
• Metal casing protects against vibration and interference
• Available in black or silver
Ultra compact power amplifier - efficient & audiophile!
A ultra high-efficiency Bi-Phase PWM (Pulse Wave Modulation) circuit with SMD parts gives outstanding audio performance and stays cool on the outside. Sound quality is aimed to be as close as possible to Class A tube amplifiers with their liquid and lifelike presentation. The Amp Box Mono S is micro-sized and therefore allows easy placement and can be switched on & off remotely via a trigger signal. A 45cm power-on cable is supplied for this purpose.
For Bi- or Tri-amplification use, the remote power-on signal can be relayed to further units.
The addition of linear power supply Power Box RS Amp adds even more depth and lets you hear all microscopic fine detail.
Power Output:


2 x 100W @ 8Ω
2 x 180W @ 4Ω
(2Ω Drive Capability)
Frequency Response:
10Hz - 50kHz (+0dB, -3dB)
Signal-to-Noise Ratio:
> -90dB (IEC - A)
THD:
< 0.1% @ 90W
Line Level Input:
1 Pair RCA Sockets
Input Sensitivity:
1.5V
Input Impedance:
100kΩ
Speaker Output:


4mm Ø Banana Plugs
Spades Connectors or
Bare Wire
Trigger In And Out (12V DC):
2-Pole Ø 2.5mm Jack
Outboard Power Supply:

48V/2.5A DC
Suitable For Your Country's Mains Supply
Dimensions (W x H x D):

103 x 72 x 144mm
103 x 72 x 163mm (Incl. Sockets)
Weight:
1,400g (Without Power Supply)
Pro-Ject Box-Design DS Line Range of Analogue & Digital Components