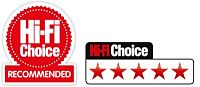 Probably the most economical record cleaning device on the market.Superb !!!. HIFI Choice
the amount of information reaching the ear is impressive indeed. Giving the music you listen to an incredible maturity. If you do grab a sample, it will reward you with a quite stunning cleaning and sonic performance. I see the Disco-Antistat as the market leader in manual vinyl cleaning and, because of that, I'm giving it a rare full marks rating and a Golden Groovy award.10/10
Practical care set for basic LP cleaning. Lasting antistatic effect with Disco-antistat mixture, a special self-acting liquid that removes dust, dirt and dried liquids groove-deep and without residue.
Want a highly effective record cleaner that's silent in operation and easy and quick to use?
...you're in the right place!
What are the reviewers saying about it?
"Not only is it remarkably good at cleaning your LPs but it's quick and easy to use and there's none of the noise and palaver associated with more elaborate alternatives. It's by far the cheapest wet cleaner on the market and to be frank, it's as effective as any other." -Hi Fi Choice
"The results were visually impressive. All visible finger marks and dirt had been removed leaving a satisfyingly glossy surface. Before and after playings proved that this system does a good job. Surface noise was drastically reduced and clarity improved to a surprising extent." -Hi Fi News
"We can't recommend this gadget too highly." -AV Review
"Highly recommended" - Hi-Fi World, May 2012
"The difference is startling" - Hi-Fi World, May 2012
The principle is simple, two discs with a 100mm diameter clamp each side of the records label, thus protecting it during cleaning, this then rests in a groove at the top of the rectangular cleaning bath, the bath is topped up with supplied cleaning fluid,
the record is then rotated around its central axis.
As the record passes through the bath, two sets of brushes clean each side of the album.
Once you're happy with the results simply remove the record and centre clamps, and place your clean album on the rack to dry
Clean every groove of your precious records thoroughly! No matter how carefully you handle your old records:
During the course of the years dust particles get accumulated in the grooves and cause clicking and cracking noises. This cleaning unit cleans even the dirtiest records and permanently prevents static charges. Even records which always had to be played wet? can now be played dry!
So Disco-antistat maintains disc value perfectly.
But most of all, it is a joy to hear your old record collection sounding like new!
Suitable for 33, 45 and 78 rpm records.
Practical care set for basic cleaning. Lasting antistatic effect with Disco-antistat mixture, a special self-acting liquid that removes dust, dirt and dried liquids groove-deep and without residue.
The Disco Antistat machine is a very simple and effective way of cleaning your records. It has been in production, basically unchanged, for over 30 years! TNT Audio
Included in delivery
Cleaning unit with goat hair brushes
label sealing shell with spindle
1 litre cleaning fluid (may be used repeatedly)
funnel and filter system
drying stand
This
machine delivers outstanding
results, is easy to use and can be
used with any record formulation
available.
This machine has been
recommended by Hi Fi News and Hi
Fi Choice
There are no two ways about it, vinyl has to be looked after. Being the most successful analogue music carrier the human race has ever seen, there are hundreds of millions of households around the world that have found out what happens when caution is cast aside. Warped discs, noisy surfaces and damaged styli are all things you can expect if your prized LPs aren't stored and cleaned properly...
Investing in and taking time to properly clean your vinyl before play may seem like a chore but doing so will not only improve the sound quality of each cleaned LP it will also extend its useful life. Vinyl's special, and often irreplaceable; look after it and it will look after you!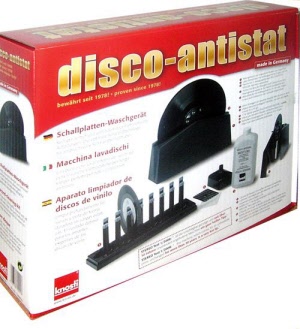 ...........................................................................................................

After Cleaning Your Prized LPs treat them to New Anti Static Inner Sleeves

Don`t put freshly cleaned LPs back into dirty old paper inner sleeves

Mobile Fidelity ( Mofi ) , Quality Record Pressings ( QRP ) ,

MA Recordings ,

Nagoaka , Japanese & Polylined

Store Cleaned Vinyl in a New Outer Sleeve Poly or PVC

Superior Cleaning with the Award Winning Disc Doctor Fluids & Brushes
It is nevertheless a safe bet that 99%+ % of Audiophiles & Record Collectors would agree that LPs shouldn't be stored in plain paper sleeves.
Cheap, non-acid-free paper sleeves degrade with time. Paper is derived from the cell wall of plants; lignin, one of the chemicals contained in the cell walls, is unstable and light sensitive and decomposes into acidic products. While bleaching removes the lignin, the paper making process produces other detrimental byproducts such as hydrochloric acid or sulfuric acid. Producing true, acid-free paper (pH >6) requires buffering with neutralizing chemicals.
Paper sleeves are also hygroscopic (water absorbing) and as a consequence facilitate the growth of mold or fungus on the LP.
The rationale for storing and preserving vinyl records in high quality, chemically inert, inner sleeves includes:
Neutralizing the record's static charge and preventing static buildup when pulling the LP out of the record sleeve
Preventing the record jacket or dirt from scratching the record
Preventing dust from sticking or becoming embedded in the record
Improved Cleaning with the Multi Award winning L Art Du Son
L'Art Du Son - Professional Audio Record Cleaning Fluid ( Concentrate )
Concentrate makes one gallon with distilled water , Add to 1 gallon of distilled water.
L'Art du Son is suitable for all vinyl, colored vinyl, picture discs and shellac records
because in contrast to many other products on the market L'Art du Son contains no
alcohols nor emulsifying additives nor silicone based anti-foam ingredients. No harmful
biocide conservative agents are added as they would be in contact with the human skin
and we are committed not to harm the user by adding strange chemicals of no valid
use to the cleaning process of the record itself.
For that reason both L'Art du Son concentrate and solution contain suspended particles
which resolve after shaking. The components of L'Art du Son are non-hazardous to the
environment, non-allergenic and almost entirely bio-degradable. One flask of L'Art du
Son concentrate is sufficient to prepare 5 liters of cleaning solution which lasts for
roundabout 500 LPs. The color of the concentrate is light blue with white visible particles. The color of the
solution is almost clear, with small white ingredients floating in the solution
Audio Guru Harry Pearson, The Absolute Sound
"...L'Art du Son, a record-cleaning fluid that really does sound different from the more conventional isopropyl-based cleaners. It contains no alcohol, is biodegradable, and can't hurt you, though I wouldn't advise drinking it! The conventional alcohol-based fluid deposited an electronic glaze over the sound, one particularly noticeable on the upper frequencies. This glaze increases the apparent 'definition' in the same way that most transistorized amplifiers do, and to these ears, emphasizes the electronic nature of the sound. With the L'Art du Son, that glaze is gone and just the music is left. I like this stuff! I couldn't imagine going back to the conventional cleaning fluids
I strongly recommend L'Art du Son Record Cleaning Liquid. One bottle should last about three years for the typical audiophile. - Positive Feedback