Mobile Fidelity - MFSL 2-45010 - 180 Gram Virgin Vinyl
AAA 100% Analogue - Numbered Limited Edition - Box Set 45RPM
Half Speed Mastered on the Mobile Fidelity The Gain 2 Ultra Analog System
Pure Analogue Mastered by Kreig Wunderlich from the Original Master Tape
AAA 100% Analogue This LP was Remastered using Pure Analogue Components Only, from the Master Tapes through to the Cutting Head
The Absolute Sound Super Disc List TAS Harry Pearson Super LP List
When Jones released her album in 1979 it immediately became an audiophile favourite, and the reason there are so many versions is that RLJ is the ultimate demonstration disc. This 45-RPM box leads the pack. As good as the Kevin Gray and single disc Mobile Fidelity versions are (and they are very good) the box set pulls out all the stops.Sound 10/10 Dennis Davis HI-FI +
No substitute for sheer groove volume, this copy really swings, with significantly more drive and a more expansive soundstage, to boot. Yes, this is analog done to perfection."
—Jeff Dorgay, TONEAudio
"It is sexy, jazzy, cool, and…worthy of its demo reputation."
—Ken Kessler, Hi-Fi News,
The newer, 45t from Mobile Fidelity features a wider soundstage. And the texture is off the charts. Listen to the vocal sibilants and you can hear Jones' breath slowly fade away. The richness added by the 45RPM treatment Sound 5/5 Vintylreviews
Rickie Lee Jones' Hip, Jazzy Debut as Fresh Today As It Was in 1979 Mastered from the Original Master Tapes and Stretched Out Across 45RPM Grooves:
At Last, the Definitive-Sounding Edition of the Diversified Genre-Hopping Classic Coolsville: Music Combines Finger-Snapping Style, Beret-Wearing Artfulness, Bohemian Pop Know-How Double-Platinum Album Includes Top 10 Hit "Chuck E's In Love" Rickie Lee Jones was hip before hipsters came of age.
Wearing a beret, exuding supreme cool, and visually demarcating herself as a member of a bohemian underground, her image on the cover of her self-titled debut says as much about the singer-songwriter as it does the music within the grooves. Uninterested in coloring within the lines, Jones steps out, a dreamer in the post-punk age, an adventurous drifter seemingly deaf to the noisiness of her era. No wonder the work remains one of the most impressive opening salvos in history.
Mastered from the original master tapes, Mobile Fidelity's 180g 45RPM 2LP edition of Jones' double-platinum 1979 smash finally gives listeners the ultimate version of this long-adored masterpiece. Always prized by audiophiles for its sonics, the record now breathes with a clearer air, with enhancements in dynamics, imaging, soundstaging, and frequency extension apparent seconds after the needle touches down on the opening grooves. Jones' singular, jazzy vocals—straddling territory between youthful surprise, street-smart sharp, and grown-up seriousness—take on stupendously lifelike qualities to the extent you can hear into her lungs. The slower speed enriches all of the information contained within the grooves.
Emerging from a quiet Los Angeles scene that also laid claim to Tom Waits, a former love interest, Jones reflects an undiminished capacity for fusing folk, R&B, pop, jazz, and scatted word poetry on an effort that matches the flexibility and elasticity of the artist's creative approach. As if playing games of hide and seek, Jones often dances around conventional syllabic phrases, using her delivery to stretch language and vowels, turning in diction that's at once gorgeous and enterprising. She taps into a subtlety of texture and ambience well beyond her then 23-year-old age, inserting sly humor when apt, and never shying away from raw emotion. Renowned for the Top 10 hit "Chuck E's In Love," Rickie Lee Jones overflows with finger-snapping be-bop accents, funky cabaret melodies, bluesy bridges, soothing balladry, and even Westernized fills. Subdued complexities flavor the arrangements, expressly tailored for Jones' portrait-rich storytelling and character-driven narratives. Such diversity is on display on the metaphorical heartache of "Last Chance Texaco," reflective "Company," and corner-hangout musings of "Danny's All-Star Joint." Throughout, intricate guitar lines give listeners further reason to concentrate on the tunes.
This one is simply a must-have.
• Half-Speed Production and Mastering by Mobile Fidelity Sound Lab •
Specially Plated and Pressed on 180 grams of High Definition Vinyl
• Special Static Free - Dust Free Inner Sleeve •
Heavy Duty Protective Packaging
• Mastered from the Original Master Tapes
Accordion – Nick DeCaro
Backing Vocals – Arno Lucas, Joe Turano, Leslie Smith, Michael McDonald, Michael Wiener
Bass – Red Callender
Drums – Andy Newmark, Jeffrey Porcaro, Mark Stevens , Steve Gadd, Victor Feldman
Guitar – Buzzy Feiten, Fred Tackett, Rickie Lee Jones
Horns – Chuck Findley, Ernie Watts, Tom Scott
Keyboards – Mac Rebennack, Neil Larsen, Ralph Grierson, Randy Kerber, Rickie Lee Jones, Victor Feldman
Mandolin – Fred Tackett
Percussion – Mark Stevens , Victor Feldman
Producer – Lenny Waronker, Russ Titelman
Synthesizer –, Randy Newman
Written-By – Rickie Lee Jones
1. Chuck E's In Love
2. On Saturday Afternoons in 1963
3. Night Train
4. Young Blood
5. Easy Money
6. Last Chance Texaco
7. Danny's All-Star Joint
8. Coolsville
9. Weasel and the White Boys Cool
10. Company
11. After Hours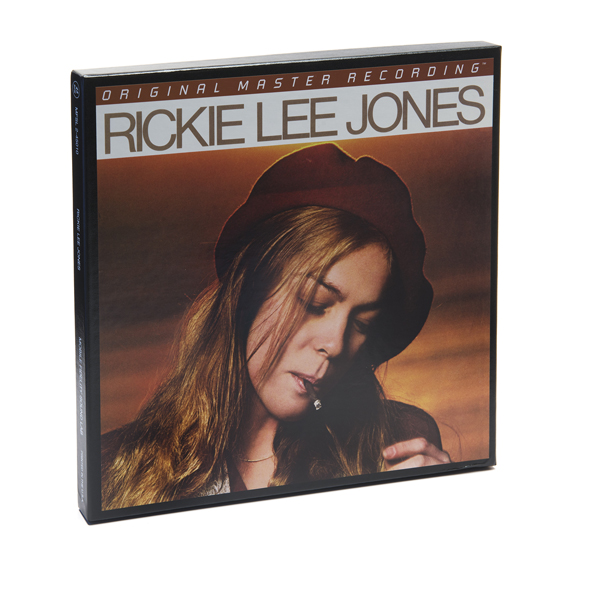 GAIN 2 Ultra Analog™ is a proprietary cutting system built and designed by legendary design genius Tim De Paravicini, with consultation from one of MFSL's founding fathers – Stan Ricker, an audio engineer responsible for many of MFSL's most heralded past releases.

The GAIN 2 Ultra Analog™ system is comprised of a Studer™ tape machine with customized reproduction electronics* and handcrafted cutting amps that drive an Ortofon cutting head on a restored Neumann VMS-70 lathe. (*It is worth noting that independent studies have confirmed that the GAIN 2 Ultra Analog™ system can unveil sonic information all the way up to 122kHz!)

First and foremost, we only utilize first generation original master recordings as source material for our releases. We then play back master tapes at half speed enabling the GAIN 2 Ultra Analog™ system to fully extract the master's sonic information. Our lacquers are then plated in a specialized process that protects transients in the musical signal. (Due to this process, there may be occasional pops or ticks inherent in initial play back, but as the disc is played more, a high quality stylus will actually polish the grooves and improve the sound). We further ensure optimum sound quality by strictly limiting the number of pressings printed for each release. These limited editions, in addition to being collectors' items, ensure that the quality of the last pressing matches the quality of the first.

As you can imagine, all these efforts involve a tremendous amount of time, technology, cost and effort. The introduction of GAIN 2 Ultra Analog™ maintains Mobile Fidelity Sound Lab's position as the world's leading audiophile record label, where a passion for music with extraordinary sound quality matters most.
RTI HQ-180 Vinyl
Record Technology is a world class record pressing plant located in Camarillo, California. We have been operating since 1974, pressing for most audiophile record labels and for many quality minded independent and major record labels from around the world.