Reprise MS 2038 - 180 Gram Virgin Vinyl
Mastered by Kevin Gray & Steve Hoffman at AcousTech - Pressed at RTI
The Absolute Sound Super Disc List TAS Harry Pearson Super LP List

The Absolute Sound 40th Anniversary Best Sounding Music
100 Recommended All-Analog ressues Worth Owning - Michael Fremer Analogplanet 2019
…As remastered from the original master tapes by maestro Steve Hoffman, Blue has weathered well the ravages of time and storage…the 180-gram reissue features quieter surfaces that dramatically enliven low-level resolution, increase dynamic range, and permit the contributions of 'sidemen' like Stephen Stills and James Taylor to shine…Most significantly, there's a near elimination of the gritty texture that sometimes dogged Joni's vocal peaks." – Neil Gader, The Absolute Sound
"…the reissue has far greater presence and physicality and is more immediate, dynamic, detailed and especially transparent. To their credit, Gray and Hoffman didn't try to mess with the original's intent. They've remained true to it while improving upon it in every way. Highest recommendation, and a most highly anticipated reissue that lives up to every high expectation." Music = 11/11; Sound = 10/11 – Michael Fremer, www.musicangle.com
"This is the definitive version of this top 10 audiophile LP of all time!"
"…An awesome collaboration between the great Kevin Gray and Steve Hoffman – as well as some major hunting in the tape vaults to get to the original tapes – has given us, I think, a masterpiece of vocal repertoire in what is considered a high-point album for Mitchell…A great disc with great sound." – Richard S. Foster, Hi-Fi+, Issue 50
One of the truly great recordings. An audiophile favorite for years. NOW MASTERED BY KEVIN GRAY and STEVE HOFFMAN at ACOUSTECH MASTERING and PRESSED AT RTI!!!
Without a doubt, one of the most important and influential artists in all of contemporary music, Mitchell is a legendary singer/songwriter and musical icon. Since her 1968 debut LP, the five-time Grammy winner has released a long string of stellar albums as emotionally powerful as they are stylistically diverse. Her 1971 poetic masterpiece, Blue is now completely re-mastered and pressed on 180-gram vinyl. .
Featuring such memorable songs as "Carey," "All I Want," "California," "A Case of You," and "River," Blue raised the stakes of confessional folk-pop to new levels of honesty and openness. Mitchell's music moves beyond the constraints of acoustic folk into more intricate and diverse territory, setting the stage for the experimentation of her later work. Unrivaled in its intensity and insight, the entire album is perfect from start to finish.Sonically and musically, we cannot give this pressing a high enough recommendation.
"Blue is clearly Mitchell's masterpiece...the reissue has far greater presence and physicality and is more immediate, dynamic, detailed and especially transparent. Highest recommendation and a most highly anticipated reissue that lives up to every high expectation.
'This is a really wonderful album; Joni just laid it all out there for the world to hear. I feel this new version is the true giant killer. Parts were cut, plated and pressed at RTI and the actual 1971 Reprise master tape was used in disk cutting. Most of the songs on this vinyl version were cut without ANY equalization at all so this will be the closest you will ever get to the sound of the true master tape!"
:
"With song after song of regrets and sorrow and a smoky-blue cover shot of Mitchell on the edge of tears, this may be the ultimate breakup album. Its whispery minimalism is also Mitchell's greatest musical achievement. Stephen Stills and James Taylor lend an occasional hand, but in "California," "Carey" and "This Flight Tonight," Mitchell sounds utterly alone in her melancholy, turning the sadness into tender art." - www.rollingstone.com
"Sad, spare, and beautiful, Blue is the quintessential confessional singer/songwriter album. Forthright and poetic, Joni Mitchell's songs are raw nerves, tales of love and loss (two words with relative meaning here) etched with stunning complexity; even tracks like 'All I Want,' 'My Old Man,' and 'Carey' – the brightest, most hopeful moments on the record – are darkened by bittersweet moments of sorrow and loneliness." – All Music Guide
Bass, Guitar – Stephen Stills
Drums – Russ Kunkel
Guitar – James Taylor
Steel Guitar – Sneaky Pete
Written-By & Vocals – Joni Mitchell
1. All I Want
2. My Old Man
3. Little Green
4. Carey
5. Blue
6. California
7. This Flight Tonight
8. River
9. A Case of You
10. The Last Time I Saw Richard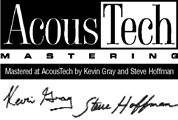 RTI 180 HQ Vinyl
Record Technology is a world class record pressing plant located in Camarillo, California. We have been operating since 1974, pressing for most audiophile record labels and for many quality minded independent and major record labels from around the world.