With a good selection of decks to choose from at this price point, the Pro-Ject RPM 3 Carbon faces
stiff competition And yet the Pro-Ject has plenty to shout about thanks to its superb arm, bearing and MM pick-up. But what really marks it out from the crowd is its sheer completeness',delivering a sound that hugely exceeds the sum of its modest parts.
HI-FI NEWS VERDICT Sound Quality: 85% Outstanding Product
Hi-Fi World, August 2015 -
Rating: 5/5 Globes
OUTSTANDING - amongst the best
VALUE - Keenly priced
Winner of the 2015 EISA Awards, the RPM 3 Carbon
Pro-Ject has done it again in producing a superb package that really works as a whole. The current vinyl revival has yet another bargain turntable to add to the roster of real value for money turntables.
If you are new to hifi and vinyl, coming back into the fold after a long hiatus, or currently strapped for cash you should take a serious look at this turntable. - HIFI Pig
Based on the RPM1 with 10inch S shaped carbon fibre arm & 2M RED
• PRE -FITTED with Ortofon 2M Red cartridge
• 3 high-gloss colours (black, red, white)
•
The latest edition to the RPM range of turntables follows on from where the hugely popular Genie 3 left off. The RPM 3 Carbon boasts a number of improvements from its sibling, the new RPM 1 Carbon.
The new RPM 3 Carbon design has been upgraded to significantly reduce resonance across the turntable. While maintaining the instantly recognisable shape, this turntable boasts improvements in the tonearm, bearing, and motor.
The brand new tonearm is a carbon fibre/aluminium resin construct, made using special heat and pressure treatments. The result of this new design is a tonearm that is more solid and anti-resonant than ever before at this price, while maintaining a light weight. The arm is finished off with a pre-fitted Ortofon 2M Silver cartridge and a new magnetic anti-skate mechanism. The improved counterweight also utilises TPE damping in the form of an anti-resonant ring around the fixing point.
The new vinyl topped sandwich platter creates the perfect surface for your vinyl to play on with no need for a mat.
The completely decoupled motor is based upon the same design as the Xpression Carbon, powered by an AC generator that's connected to the new DC power supply. The inverted main bearing now utilises a ceramic ball, offering a more fluid and consistent platter rotation than ever before.
Available in Red, White or Black high gloss finishes, the RPM 3 Carbon is a turntable package that offers truly phenomenal value for money.
Key Features:
Precision belt drive using synchronous motor
Ultra-precision DC-driven AC generator motor power
Inverted platter bearing with ceramic ball
Vinyl topped sandwich platter
10" S-shaped tonearm made from carbon, aluminium, resin utilising special heat and pressure treatments
Magnetic anti-skating
Counterweight with TPE damping
Pre-fitted Ortofon 2M Silver cartridge
3 high-gloss colours (black, red, white)
Fitted Cartridge: Ortofon 2M Silver
Nominal Speeds: 33 / 45 rpm
Dust Cover: No
Motor Completely Decoupled: Yes
RCA Phono Jacks: Yes
S Shaped Tonearm: Yes
Tonearm: Pro-Ject 10S (carbon, aluminum armtube)
Effective Tonearm Length: 10"
Effective Tonearm Mass: 18g
Overhang: 16mm
Downforce Range: 0 - 2.5 grams
Speed Drift: 33: +/- 0.19% I 45: +/- 0.08%
Wow & Flutter: 33: +/- 0.14% I 45: +/- 0.11%
Signal-to-Noise: - 71dB
Power Supply: Outboard Power Supply
Power Consumption: 1W
Dimensions (WHD): 17.6" x 4.65" x 14.7"
Weight: 12.13 lbs.
RPM 3 Carbon is simply an awe-inspiring turntable in its own right. Available in red, white or black, build quality is amazing. Anyone looking for an inexpensive but good all round turntable should put it right at the top of their list - Tech review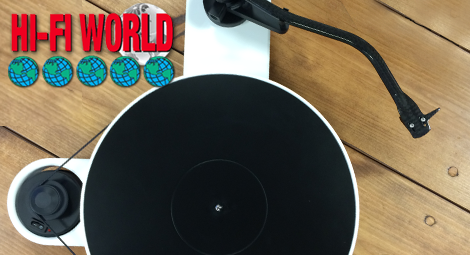 HIFIPIG Recommended - All in all then the Pro-Ject RPM3 Carbon as a package is superb. It is easy to set up and use, as are all of Pro-Jects products and is built to an enviable standard of finish for the money. Pro-Ject has done it Again
Pro-Ject Audio Systems is known for its beautiful range of price-friendly turntables. As the largest turntable manufacturer in the world, the company has helped power the resurgence of vinyl, which is predicted to overtake CD in popularity within a few years. Pro-Ject also manufactures a Wide range of Quality hi-fi components.
Pro-Ject products are the result of an exemplary cooperation within a rapidly uniting Europe. For over fifty years record players have been designed and built at Pro-Ject's manufacturing facility in Litovel, situated to the east of Prague. This plant is one of the most advanced manufacturers of precision mechanics in the country In cooperating with this company Pro-Ject Audio Systems, located in Vienna, found the ideal partner for their plans to produce the goods that they missed from amongst the vast flood of consumer hifi products - simple, uncluttered and utterly functional products.