RPM 9 Carbon: with Dust Cover
( Special Package Offer with Pro-Ject Pick-it DS2 Cartridge Moving Coil MC )
The Pro-Ject RPM 9 Carbon continues the brand's outstanding run of sonic and technical improvements in affordable vinyl playback. In fact, throughout my evaluation it never seemed out of its league, even facing the heady heights of upper-crust setups, including my own much pricier kit. Interested parties should also know that the RPM 9 Carbon is a worthy addition for the long term—it's got enough resolution and sheer musicality to ensure that audio upgrades elsewhere in the chain can be confidently purchased without fear of outdating the Pro-Ject. Without qualification, the RPM 9 Carbon is a terrific package, certain to give a great many lucky owners years of vinyl-spinning thrills -Neil Gader The Absolute Sound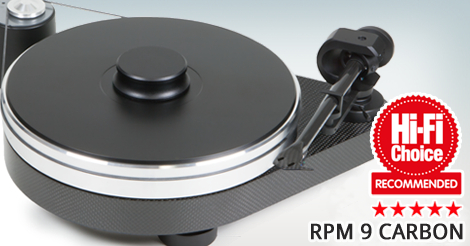 "…if you're shelling out this sort of cash for a turntable and tonearm you want it to perform exceptionally well and here the decks doesn't disappoint either. The Pro-Ject RPM 9 Carbon turns in a highly polished performance with every bit of vinyl placed onto its sumptuous platter, and is one deck I'll be very sad to say goodbye to." 5 Stars Hifi Choice
The Pro-Ject RPM 9 Carbon, with its d 9cc tonearm, proved themselves to be worthy of praise on multiple fronts. This is a unique, and aesthetically-pleasing turntable design rooted in long-term research & development toward producing compelling, musical, and dignified playback, keeping pace (rhythm, and timing) makes this combination a thought-provoking musical companion – albeit more cerebral, than brawny – for those interested in a long-haul analog relationship- .Partimeaudiophile Review
• Advanced sandwich construction of plinth with combination of MDF, carbon fibre and steel pellets
• Plinth manufactured with thermo treatment
• Mass loaded subchassis design with magnetic feet
• Inverted main bearing with ceramic ball/plate
• 7,2kg acoustically inert aluminium platter with TPE damping and vinyl mat on the top
• DC power supply with AC motor
• Precise DC driven AC generator (Speed Box) built-in
• Electronic speed control with 33/45 rpm switching
• 78 rpm optional
• Outboard motor construction with massive steel base
• Pre-mounted 9" tonearm 9 cc Evolution
• 5P Connect it Phono CC cable with RCA plugs (XLR available as an option)
RPM 9 Carbon: Beautiful and clever design with true high-end sound quality
Due to extensive research and development, we now lift our classic RPM design to an even higher level. The RPM 9 Carbon uses a new extra heavy chassis which features a special CNC machined MDF plate that incorporates hard resin coated steel pellets to form an extra heavy precise sandwich construction.
A special complex heat treatment and a carbon surface coating ensures superior low resonance levels. The mass-loaded chassis is effectively decoupled from its surface using magnetic feet. Combined with a new special polished aluminium platter with internal TPE damping and a vinyl layer on top, the inverted ceramic main bearing delivers an absolute stable turntable speed with extra low rumble.
The extra heavy outboard motor unit is equipped with a precise motor control and features a built-in switch between 33 & 45 rpm. Last but not least the non-compromise 9" Evo tonearm with conical carbon-fibre armtube and inverted bearing design ensures perfect tracking, even with demanding cartridges. Highly flexible top-grade copper internal wiring. Delivered with topgrade 5P phono cable "Connect it CC" with RCA plugs (XLR as an option).
Speed 33, 45 (electronic speed change)
Drive principle belt drive
Platter 7,2kg aluminium (300mm diameter)
Mains bearing inverted stainless steel with ceramic ball/plate
Wow & flutter 33: +/- 0,10% 45: +/- 0,10%
Speed drift 33: +/- 0,10% 45: +/- 0,10%
Signal to noise - 75dB
Tonearm 9" Carbon
Effective arm length 230 mm
Effective arm mass 8,0 g
Overhang 18mm
Tracking force 10 - 35mN
Supplied counterweights 5 - 7,5gr / 7 - 10gr / 9 - 11gr / 10 - 14gr
External power supply 15 volts DC / 800mA
Power connection 110/120 or 230/240 Volt - 50 or 60 Hz
power consumption 13 watt max / < 0,3 watt standby
Dimensions 440 x 180 x 325mm (WxHxD)
Weight 16,7 kg net
If there was a system that could show up the Pro-Ject as a playback poseur it was the one it faced during this evaluation. One of the highest-resolution setups I've had in my room recently, it was composed of the Parasound JC 3+ phonostage, the Classé CP-800 preamp, CA-D200 amplifier, and TAD CE-1 loudspeakers (review forthcoming). Synergistic Research supplied its all-new Atmosphere Level 4 cabling (with red tuning modules). My own LP setup is the Sota Cosmos vacuum-hold-down 'table with SME V tonearm, Sumiko Palo Santos Presentation cartridge, and Audience Au24SE phono cable.
Just prior to actually dropping the stylus onto a record for the first time I have a particular (some might say peculiar) habit reserved for turntable evaluations. Given that they are the only components (excepting reel-to-reel) in audio chains with mostly visible, mechanically operated systems, I like to sit back and observe the 'table and tonearm behavior—the quality and control of its operation. How fluid and stable is the 'table in full motion? Does the platter/mat waver during rotation? Is there any vibrational noise, or motor noise? Long story short, the system should present a platform so placid and stable that at a glance the stylus/groove interface should appear as if there is nothing moving at all—frozen in time like a still photo. The RPM 9 Carbon passed this initial test so impressively it looked as if it were unplugged.
The sonic performance of the RPM 9 Carbon is devilishly good. Backgrounds are jet black and softly tinted to the warmer end of the tonal spectrum. Its character is one of overarching balance across all criteria, a trait that makes LP reproduction sound elegantly composed and well nigh effortless. Imaging and soundstage stability are excellent with a wide comfortable spread of images across the stage. String sections, winds, brass are all nicely differentiated from another and there's little to no image smearing.
On the classic Reference Recordings LP Nojima Plays Liszt my ears instantly go on red alert. If there is any hint of pitch instability or tonal warble it's going to raise its head during this recording's quietest passages—especially on long, sustained single notes. The Pro-Ject was rock-solid at these moments, each note decaying unwaveringly into the deepest corners of the soundspace. Presto arpeggios were liquid and articulate, as well. Plus, there was an impressive sense of air and lift in the upper octaves. And equally and literally striking were the artist's percussive keyboard stabs, which were deep and authoritative. As these aggressively played passages built in intensity, the harmonic aura enveloping the soundboard and rippling the air around the concert grand was superb.
When evaluating turntables I invariably return to the deep, widely spaced grooves of twelve-inch 45rpm pop remixes. They've been re-engineered and cut for maximum effect on the dance floor, and are usually overflowing with bass information and mixing board trickery. Although these can be a bear for cartridges to track I'm still amazed at the delights and oddities that I continue to discover in these old pressings—and way long after assuming I'd extracted every sonic treasure. Take for example, Lionel Richie's "All Night Long" (I hear groans). The depth and detail in this recording have evolved steadily upward with the improvements in LP playback equipment. In the case of the RPM 9 Carbon it was all about the detail exhibited from the dense crowd of background partyers. There was enough specificity and transient snap that I was ready to do a head count. (And then go find the party's bartender.) The vibes solo was also richer harmonically, more stable and articulate. And the blazing horn section could now be broken down into individual instruments, not just white sheets of sound. Similarly David Bowie's "Let's Dance," the Nile Rodgers-produced twelve-inch remix, sent chills down my spine with its percussive energy, smirking sax-play, and every searing note that exploded forth during Stevie Ray Vaughan's famous guitar solo.
Another example was Joan Baez's cover of "Let it Be" from her live concert LP Diamonds and Rust in the Bullring, a wonderful remastering and pressing from Analogue Productions. Accompanied by the gospel-inflected piano, organ, and backing chorus, this was the sort of emotionally open performance so filled with artistic conviction that I was whisked into the appreciative audience, where the sense of the live event was evident in the ambient immersiveness of the recording and the assuredness of Baez's terrific pitch control and lively vibrato.
There are no blatant weaknesses to this turntable, rather just some very minor subtractions. In subtler ways it lacks the final level of dark harmonic ripeness in the lower octaves of certain super-'tables. The palpability and the full palette of dynamic action and tonal color during Stravinsky's Pulcinella [Argo] seemed slightly attenuated. The low-level resolving power that finds spaces between notes was more apparent on my own front end. Finally, I could spot some general soundstage foreshortening and a modest hint of treble constriction from orchestral strings, cymbals, and tams, but to be fair, the choice of cartridge needs to be factored into this impression at least as much as the turntable/tonearm combination. Probably more. The Blue Point Special is a good one and a good value, but to be fair it's no Palo Santos Presentation.
The Pro-Ject RPM 9 Carbon continues the brand's outstanding run of sonic and technical improvements in affordable vinyl playback. In fact, throughout my evaluation it never seemed out of its league, even facing the heady heights of upper-crust setups, including my own much pricier kit. Interested parties should also know that the RPM 9 Carbon is a worthy addition for the long term—it's got enough resolution and sheer musicality to ensure that audio upgrades elsewhere in the chain can be confidently purchased without fear of outdating the Pro-Ject. Without qualification, the RPM 9 Carbon is a terrific package, certain to give a great many lucky owners years of vinyl-spinning thrills. Neil Gader The Absolute Sound July 2015
NO Cartridge supplied as Standard
Pro-Ject Audio Systems is known for its beautiful range of price-friendly turntables. As the largest turntable manufacturer in the world, the company has helped power the resurgence of vinyl, which is predicted to overtake CD in popularity within a few years. Pro-Ject also manufactures a Wide range of Quality hi-fi components.
Pro-Ject products are the result of an exemplary cooperation within a rapidly uniting Europe. For over fifty years record players have been designed and built at Pro-Ject's manufacturing facility in Litovel, situated to the east of Prague. This plant is one of the most advanced manufacturers of precision mechanics in the country In cooperating with this company Pro-Ject Audio Systems, located in Vienna, found the ideal partner for their plans to produce the goods that they missed from amongst the vast flood of consumer hifi products - simple, uncluttered and utterly functional products.
Pro-Ject Audio Systems is currently one of the world's leading suppliers of record players, with a range of models designed to satisfy all levels of expectation and budget. In many countries of the world customers can rely on competent service and support from Pro-Ject distributors well versed in analogue record reproduction technology. Pro-Ject products exhibit sonic performance beyond all expectations normally associated with their price. they are simple to use, maintanance free and will function reliably a lifetime long. They also offer extraordinary value for money.