(SoundStage! Ultra, 10 Best Products 2017): "Its ability to wrap the music around its little finger absolutely transfixed me.
For vinyl lovers who want to go all the way with turntable performance
New Flagship RPM Carbon Turntable
10cc Evolution 10 Inch Carbon Fibre Tonearm
supplied Ground-IT Carbon Isolation Base + Dust Cover
Special Package Fitted with Multi-Award Winning Ortofon Cadenza
for Extra £1100 ( £1825 RRP ) Saving £725
or Cadenza Red for extra £550 ( £ 875 RRP ) Saving £ 325
RPM 10 Carbon: Beautiful, clever design with ultimate high-end sound quality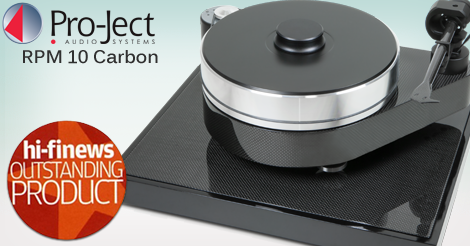 Pro-Ject's RPM 10 Carbon is a most impressive performer at its price, offering a sound that will amaze those people returning to the vinyl format, yet still impress veteran vinyl junkies" "It has a deep, dark, powerful character that goes straight to the music in the groove. This is doubtless down in large part to its virtually inaudible rumble, fine speed stability and good tonearm performance – all of which contribute to its authoritative mastertape-like sound." Outstanding Product Sound 85% Hi-Fi News
For some years the legendary RPM series was one of the leading designs in analogue sound reproduction. The iconic RPM drop shaped base chassis resulted in a superior resonance characteristics compared to rectangular shaped chassis. Progressing from the foundations that the RPM 10 was build from, the years of research and development have benefited substantially in producing the RPM 10 Carbon.

The RPM 10 Carbon uses a new extra-heavy chassis. It features a special CNC-machined MDF base with resin coated steel pellets to form an extra-heavy and precise sandwich construction. A special complex heat treatment and carbon surface coating ensures superior low resonance levels. The mass-loaded chassis is effectively decoupled from its surface using magnetic feet.

Combined with a new special polished aluminium platter with internal TPE damping and a vinyl layer on top, the inverted ceramic main bearing delivers an absolutely stable turntable speed with extra-low rumble.

Motor
The new RPM heavy weight motor integrates an electronic DC/AC power generator to clean up generated noise usually associated with AC power. To further enhance the RPM 10 Carbon the extra heavy outboard motor also consists of a precise motor control allowing for easy switching between 33 and 45 RPM

Tonearm
The highly acclaimed 10"cc Evolution tonearm is made from a one piece conical tube of carbon fibre with an inverted bearing design which offers ultimate rigidity and internal damping to minimise all unwanted vibrations. The 10"cc Evolution tonearm's design makes it suitable for almost any high quality MM and MC cartridges.

The RPM 10 Carbon comes with the Ground-IT Carbon base and a top grade 5P Connect-IT Phono CC cable with RCA plugs (An XLR option is also available to special order).

Advanced sandwich construction of plinth with combination of MDF, carbon fibre and steel pellets
Plinth manufactured with thermo treatment
Mass loaded subchassis design with magnetic feet
14.5kg Ground it Carbon equipment base included
Inverted main bearing with ceramic ball/plate
Extra-heavy acoustically inert aluminium platter with TPE damping and vinyl mat on the top
DC power supply with AC motor
Precise DC driven AC generator (Speed Box) built-in
Electronic speed control with 33/45 rpm switching (78 rpm optional)
Outboard motor construction with massive steel base
Pre-mounted 10" tonearm 10cc Evolution
Ultra incisive, transparent and dimensional moving coil with grip and punch aplenty." 5/5 Hi-Fi World Magazine
the Cadenza Black is a no holds barred performance cartridge, Positive Feedback

The Ortofon Cadenza Black is now on the table and breaking in. So far, the sound is worthy of a lacquered string of superlatives hung around the neck of an exclamation point. - Audiophile
NO Cartridge supplied as Standard

Special Package Fitted with Multi-Award Winning

Ortofon Cadenza Black or Red MC

:

Project RPM 10 Carbon Turntable Specification:

Nominal Speeds: 33 / 45 RPM

Motor Completely Decoupled: Yes

Effective Tonearm Length: 10" (254mm)

Effective Tonearm Mass: 8.5g

Overhang: 16mm

Tracking Force: 10 - 35mN

Wow & Flutter: 33: ± 0.11%

45: ± 0.10%

Speed Drift: ± 0.01%

Signal to Noise: -75dB

Supplied Counterweights: 5-7gr, 7-10gr, 9-11gr, 10-14gr

Output Voltage: 15V / 1600mA DC

Power Consumption: 15W Max. / <0.3W Standby

Dimensions (W x H x D): 480 x 210 x 330mm

Weight: 22kg

Weight Base: 14.5kg

"It has a deep, dark, powerful character that goes straight to the music in the groove. This is doubtless down in large part to its virtually inaudible rumble, fine speed stability and good tonearm performance – all of which contribute to its authoritative mastertape-like sound."

–

Hi-Fi News

, Outstanding Product Sound 85%

Pro-Ject Audio Systems is known for its beautiful range of price-friendly turntables. As the largest turntable manufacturer in the world, the company has helped power the resurgence of vinyl, which is predicted to overtake CD in popularity within a few years. Pro-Ject also manufactures a Wide range of Quality hi-fi components.

Pro-Ject products are the result of an exemplary cooperation within a rapidly uniting Europe. For over fifty years record players have been designed and built at Pro-Ject's manufacturing facility in Litovel, situated to the east of Prague. This plant is one of the most advanced manufacturers of precision mechanics in the country In cooperating with this company Pro-Ject Audio Systems, located in Vienna, found the ideal partner for their plans to produce the goods that they missed from amongst the vast flood of consumer hifi products - simple, uncluttered and utterly functional products.

Pro-Ject Audio Systems is currently one of the world's leading suppliers of record players, with a range of models designed to satisfy all levels of expectation and budget. In many countries of the world customers can rely on competent service and support from Pro-Ject distributors well versed in analogue record reproduction technology. Pro-Ject products exhibit sonic performance beyond all expectations normally associated with their price. they are simple to use, maintanance free and will function reliably a lifetime long. They also offer extraordinary value for money.