Universal Tonar Misty Record-Clamp in 5 Colours to matach your Turntable
( Clear , Black , Green , Red & Blue ) Universal Fitment for Turntables with Standard Spindle ( Not Threaded Screws Down )
The Lightweight 80gram Tonar Misty record clamp is the perfect alternative if a "hockey puck record puck" is too heavy for your turntable.
Ideal to flatten warped records & Sound improvement for all turntables

The sound performance of a vinyl playback system can be significantly improved when all unwanted resonances between the record and the platter can be reduced during playback. Enter record clamps and pucks; simple devices which are designed solely to ensure the record and platter surfaces are held together tightly.

Standard record pucks, that use only weight to achieve this aim, can have 2 disadvantages:

The weight can induce higher levels of rumble, when used with lower cost turntables which have smaller main bearings
Instead of tightening the records surface to the platter, heavy weight record pucks can cause the opposite to happen and potentially warp the vinyl record into a slight 'bowl' shape.

It is a stylish accessory with a clamp mechanism around the center spindle, that will not add weight but will press the record against the platter.


• Sound improvement for all turntables
• Reduces unwanted resonances while playback
• Fast and easy mounting
•

Functional and easy to use sound improvement!
Vinyl sound can be significantly improved, when unwanted resonances between record and platter can be reduced, while playback.
Therefore surfaces of record and platter should connect tigthly.

This accessory will not only please your ears, it will also look extremely cool on any turntable!
Tonar Misty Clamp
Round: 90mm
High: 22mm
Weight: 80 Gram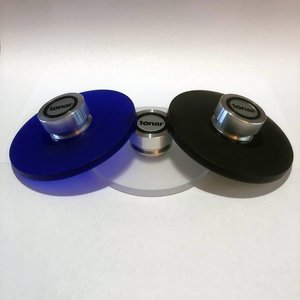 ..
.

...