Sonically the results are excellent , a Excellent & interesting tweak - HIFI World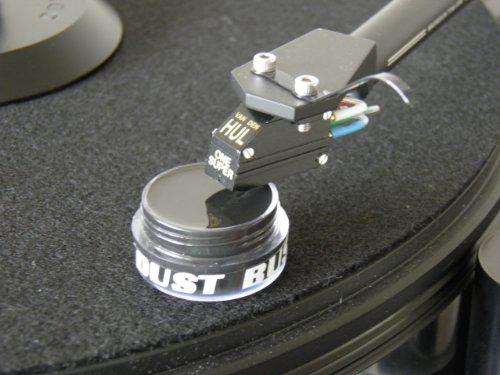 Sonically the results are excellent , a Excellent & interesting tweak - HIFI World
It works thoroughly and does not seem to have any drawbacks. It's amazing that 20 years after all the major record companies pulled out all the stops to kill off unprofitable vinyl, that sales of vinyl records are increasing and enthusiasts are still coming up with ingenious cost effective ways of making vinyl replay even better -TNT Review
The Missing Link - a Radical New Approach to Stylus Cleaning.
The VP Dust Buster offers the finest protection for your Stylus Increasing its Life by up to 1000 hours.
Very Easy To Use
Our VP Dust Buster will give many years of trouble free service and keep both your Stylus and Vinyl in pristine condition
All Record Collectors...
will know the importance of keeping Vinyl clean to preserve the recording but even more important is the cleaning of the Stylus. We inspect stylus and cantilever assemblies regularly and over the years admit to having had occassional accidents whilst cleaning expensive and intricate styli , thankfully they were all personally owned !
Subsequently we have tried many ways of cleaning the stylus over the years but all have had their perils and put undue stress on the stylus and cantilever. That is until we discovered this new method utilising a specially formulated polymer that is placed under the stylus.
The VP Dust Buster
This is easy safe and remarkably low priced. We have checked with our inspection microscopes on numerous stylus types and the results are amazing - every time after a few dozen cleans you simply wash the Dust Buster under the tap, allow to dry in the air and put on the lid to keep as good as new.
The VP Dust Buster makes it...
painless to clean your stylus after every recording with absolutely no risk of damage And this will increase the life of a new stylus by up to 1000 hours and offer the ultimate protection to your vinyl recordings.
Wonder Product
The VP Dust Buster really is a Wonder Product and a must have for all vinyl fans you will be surprised the amount of debris you stylus picks up from just one side !!! If you want the very best for your cherished recordings look no further.
How to use our Dust BusterVinyl Passion - Dust Buster Stylus Cleaner
We spent 3 years developing the oil polymer hybrid and use a specially developed UV bonding process to produce a hybrid material used in the dust buster there was a further 12 months of product testing before it was brought to market.
This was a purely selfish development as I have an extremely large record and turntable collection and have damaged numerous stylus over the years it became obvious after trying every product on the market over the years that they all had there drawbacks. This is precisely why we developed the Dustbuster.. It is easy to use with no risk of damage so easy in fact if mounted next to your platter your stylus can be cleaned before every side of every record this keeps clean vinyl in pristine condition and also increases the life of the stylus by at least 100% by keeping the tip microscopically clean so even on an inexpensive £50 moving magnet it actually saves you a considerable amount of cash.
The performance is at its best for 12 months and the cleaning properties slowly start to decline so we advise for perfect results every time to change the dust buster every 12 - 18 months this ensures perfect cleaning on a microscopic level the dust buster will easily have paid for itself in stylus wear alone in just a few hundred hours even on a budget stylus and then there is the damage to your vinyl it reduces considerably.
Every vinyl enthusiast should have one I consider it my gift to the vinyl music lover and a major contribution in the preservation of rare and cherished vinyl.
'Sonically, the results are excellent, this was as good as a laborious full wet clean with isopropyl alcohol and a top quality stylus brush; records sounded clean and clear and smooth and open...an interesting and excellent tweak.'' Hi Fi World,
It's quick, it's safe and it's cheap and as such represents a bit of a no brainer for me. The main consideration is that playing your records with a dirty stylus may well degrade them over time and so a clean stylus is essential. With the dust buster you can afford to clean your stylus as often as you want, between each side if you choose and this will extend the life of your valuable discs. No scores but highly recommended - Hifi Pig