( Pack Size 100 )
Select Qty Break Prices & Supplied in 1 , 10 , 25 , 50 , 100 , 250 , 500 , 1000 Packs
Fleecepacks work for us and save a lot of storage space while protecting our disc treasures. Going through the rows in the drawers is easy and when a CD is selected for a spin - 6Moons Review.
Fleecepack is a compact storagesysteem for CD's and other digital discs. A gorgeous plastic sleeve with a fleece innersleeve and an index lable. There are two versions, the Classic (± 15 gram) and the Lite (± 8 gram).
An unbreakable, space-saving (75%) sleeve with three compartments.
One fleece innersleeve for the disc, one for the booklet and one for the bottomcard.
Plus an index strip. No cutting needed. Can be used horizontal as well as vertical.
Fit storage case & Ring Binders shown below NOT Included
Very Compact Space Saving Storage + Ideal Storage once CDs are ripped to a music server for physical back up
In the photos you can appreciate how an original stack of jewel cases reduces rather dramatically in size once those cases are discarded. It can occasionally be a bit of a chore when dealing with carton digipacks and CDs delivered with complete textbooks in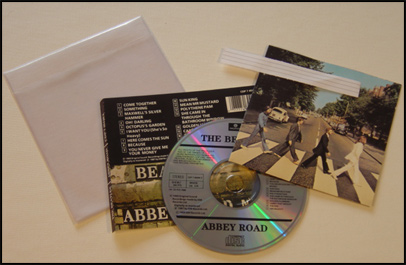 CD case & Ring Binder NOT Included