Mobile Fidelity - MFSL 2-45011 - 180 Gram Virgin Vinyl Box Set
Numbered Limited Edition - Pressed at RTI
Mastered by Kreig Wunderlich at MFSL
1/4"inch / 15 IPS / Dolby SR analog remix master to DSD 64 to analog console to lathe
The Absolute Sound Super Disc List TAS Harry Pearson Super LP List
100 Recommended LP Reissues Worth Owning - Michael Fremer Analogplanet
"…This is by far and away the most vivid incarnation I've experienced. One impressive element is not even the playing: It's the 'air' in the recording. You hear breathing, you hear valves opening."
—Ken Kessler, Hi-Fi News, "Album Choice" review
Considering the care that's gone into this Mobile Fidelity reissue, the high quality RTI pressing and the reasonably well produced booklet with great studio photos , this reissue strikes me as a complete success and as good as can be expected fifty six years after it's original release. I know the folks at Mobile Fidelity worked really hard and spent the money to get this one right. Sound 10/10 Music 11/10 Michael Fremer Analogue Planet
Best-Selling Album in Jazz History Receives the Prestigious Mobile Fidelity Treatment
Mobile Fidelity 180g 45RPM 2LP Box Set is Definitive Analog Version and Intended to Be Passed on to Generations.
If There's a Stairway to Heaven, This is the Soundtrack:
The very first stereo analog tapes no longer exist. A new set of all-analog stereo masters were created by engineer Mark Wilder at Sony Music Studios in 1997 the same way the first tapes were made - from the original 3-track masters. This all-analog master is the tape we used. It is absolutely a first generation analog master tape, as it was mixed directly from the original multi-track tapes

Epochal 1959 Record the Mt. Rushmore of Jazz Sessions. Dream Team of Davis, Adderley, Coltrane, Evans, Kelly, Chambers, Cobb Make History! How does one properly introduce an epochal record? Perhaps by unequivocally stating that it is the best-selling jazz album in history. Or by affirming that, every year, it sells tens of thousands of copies more than five decades after its original release.
There's also the matter of its status as the most-referenced, and arguably, most important, jazz recording of all-time. And the Dream Team lineup of Miles Davis, Cannonball Adderley, John Coltrane, Bill Evans, Wynton Kelly, Paul Chambers, and Jimmy Cobb. Yes, Kind of Blue is utterly inimitable. Part of Mobile Fidelity's Miles Davis catalog restoration series, the landmark has been given the ultimate white-gloves treatment.
Half-speed mastered from the original master tapes, and pressed on 45RPM LPs at RTI, this sumptuous box set of the often-reissued album is a must for even fans that already possess multiple versions. Such is the illuminating transparency, reference dynamics, organic warmth, and instrumental detail exposed by the thoroughly scrupulous mastering process. If there's a stairway to heaven, this is the soundtrack. In its three-decade-plus history, Mobile Fidelity has never been prouder to have the honor of handling efforts as important as Davis' key recordings.
It's why the label's engineers took every available measure to transport listeners to the March and April 1959 sessions that parlayed modal jazz into mainstream language. The blueprint for melodic improvisation and vamping, Kind of Blue simplifies tonal organization and chordal progression into an eminently beautiful, introspective tapestry stitched with swinging poetry, mellifluous soloing, compositional lyricism, transcendental harmonies, and group interplay of the highest caliber. While no one has ever completely identified the magic behind the record's allure—the otherworldly nature is part of its inherent charm—much of the success lies with the band members. Davis intentionally handpicked these musicians to comprise this particular cast, with everyone from former foil Evans to blues maestro Kelly to percussive genius Cobb interacting and reacting with peerless skill. An audiophile favorite from the day it was issued, Kind of Blue takes on nirvanic sonic proportions via Mobile Fidelity's reissue.
The expressive warmth, imaging clarity, frequency extension, and window-on-the-world breadth afforded by this new edition places music lovers right in the studio with the sextet. Close your eyes and, no matter how many times you may have heard it before, your experience will parallel that of the players that recorded these gems. Everyone shares in the excitement of not knowing what will happen and, as the music begins to lie out in front of you, you'll feel as if you've been whisked away to a jazz holy land.
Quintessential.
Dynamically, the MOFI KOB 45rpm disk attained the Herculean feat harnessing a realism that eclipses all 33 1/3rpm LPs in my collection. Therefore, this MOFI 45rpm release is by far the ultimate expression of the landmark studio event and will provide readers that have been enjoying this music in the 33 1/3rpm all these years a new sonic experience. Vinyl playback such as this as augmented by high-end cartridge, tonearm cable and phono preamp is expensive but epical, unique to the vinyl experience continuingly in this day and age. The playback quality of this 57-year-old, 2-track recording amazes and tantalizes me. But these are physical disks and they get worn down, especially with the frequency of use that I have in mind for them. I'll just play them as they deteriorate in the next few years until they start sounding dull … There's only one thing to do and that is getting a second set for rainy days. I'm not doing this because I'm the greatest jazz fan this side of the coasts but because I am ushered into the mystical, nirvanic audiophile zone every time I play it. It didn't hurt that the music is pleasant and not rowdy. For every five or six times I've played the first set for myself and visitors, I'll take the second set out for a private spin just to check and compare - Dagogo Review
• Numbered, Limited Edition
• 45rpm Speed Edition
• Mastering by Mobile Fidelity Sound Lab
• Specially Plated and Pressed on 180 grams of High Definition Vinyl
• Special Static Free - Dust Free Inner Sleeve
• Heavy Duty Protective Packaging
• Mastered from the Original Master Tapes
• Pressed at RTI
Musicians:
Miles Davis, trumpet, band leader
Julian "Cannonball" Adderley, alto sax
Paul Chambers, double bass
Bill Evans, piano
Wynton Kelly, piano
Jimmy Cobb, drums
Selections:
1. So What
2. Freddie Freeloader
3. Blue in Green
4. All Blues
5. Flamenco Sketches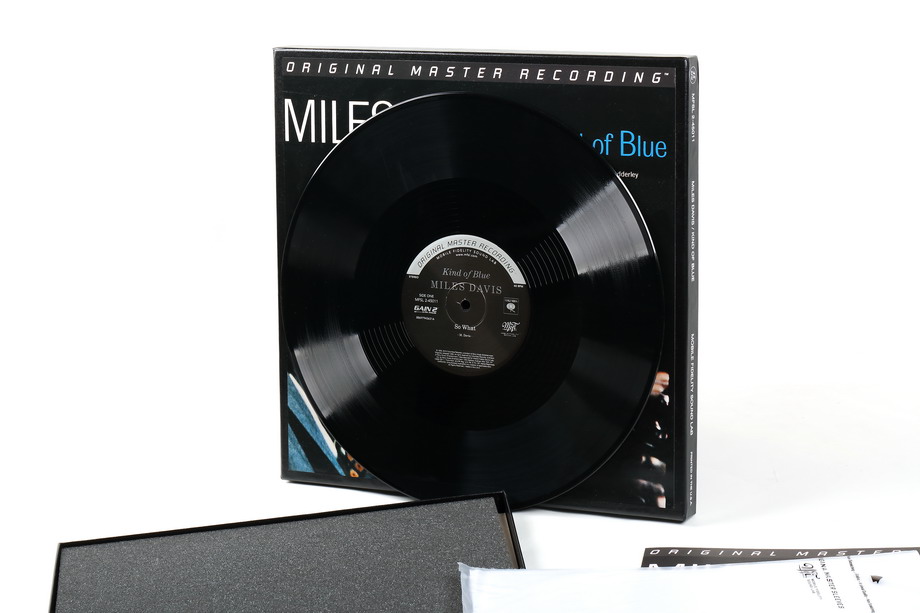 GAIN 2 Ultra Analog™ is a proprietary cutting system built and designed by legendary design genius Tim De Paravicini, with consultation from one of MFSL's founding fathers – Stan Ricker, an audio engineer responsible for many of MFSL's most heralded past releases.

The GAIN 2 Ultra Analog™ system is comprised of a Studer™ tape machine with customized reproduction electronics* and handcrafted cutting amps that drive an Ortofon cutting head on a restored Neumann VMS-70 lathe. (*It is worth noting that independent studies have confirmed that the GAIN 2 Ultra Analog™ system can unveil sonic information all the way up to 122kHz!)

First and foremost, we only utilize first generation original master recordings as source material for our releases. We then play back master tapes at half speed enabling the GAIN 2 Ultra Analog™ system to fully extract the master's sonic information. Our lacquers are then plated in a specialized process that protects transients in the musical signal. (Due to this process, there may be occasional pops or ticks inherent in initial play back, but as the disc is played more, a high quality stylus will actually polish the grooves and improve the sound). We further ensure optimum sound quality by strictly limiting the number of pressings printed for each release. These limited editions, in addition to being collectors' items, ensure that the quality of the last pressing matches the quality of the first.

As you can imagine, all these efforts involve a tremendous amount of time, technology, cost and effort. The introduction of GAIN 2 Ultra Analog™ maintains Mobile Fidelity Sound Lab's position as the world's leading audiophile record label, where a passion for music with extraordinary sound quality matters most.